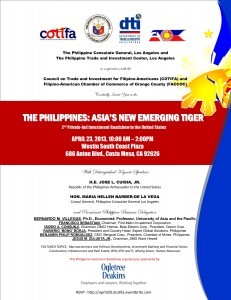 The Philippine Consulate General of Los Angeles and The Philippine Trade and Investment Center of Los Angeles in cooperation with the Council on Trade and Investment for Filipino-Americans (COTIFA) and Filipino-American Chamber of Commerce of Orange County will be hosting a private-led investment roadshow in the United States on April 23, 2013.
The roadshow titled "The Philippines: Asia's New Emerging Tiger" will cover a variety of topics including macroeconomics, political development, investment banking, financial sectors, construction, infrastructure, human resources, BKO, KPO, IT and the mining sector.
The showcase will feature several keynote speakers including H.E Jose L. Cuisia, JR, the current Republic of the Philippines Ambassador to the United States and Hon. Maria Hellen Barber-de La Vega, the current Consul General at the Philippine Consulate General Los Angeles.
The event will also feature several prominent Filipino business professionals including Bernardo M. Villegas, Francisco Sebastian, Isidro A. Consunji, Rainerio 'Bong" Borja, Benjamin Philip Romualdez and Jesus M. Zulueta, JR.
The roadshow will take place on April 23rd, 2013 and will begin at 10:00 AM and will end at 2:00PM. The event center is at the Westin South Coast Plaza, located at 686 Anton Blvd., Costa Mesa, CA 92626.