ARLINGTON, November 2, 2010 (AFP) – As the San Francisco Giants celebrated their first World Series title since 1954, a lad who did not look old enough to remember the 20th Century held a sign over his head – "The Torture Has Ended".
Giants fans gave the season the tongue-in-cheek nickname "torture" because of so many close games they had to sit through.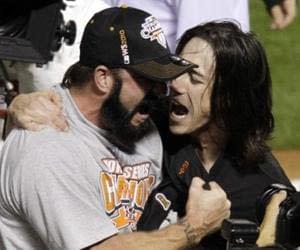 On Monday they were rewarded with a 3-1 victory over Texas to claim the World Series crown.
The Giants won Major League Baseball's best-of-seven final four games to one for their first title since moving to California from New York in 1958.
And with a young staff of pitchers and rookie catcher Buster Posey among the standouts, the stage could be set for a San Francisco dynasty.
"With the young pitching this team has and Buster behind the plate, this team has a chance to do something special for quite some time," Giants first baseman Aubrey Huff said.
For Giants manager Bruce Bochy, the success was stunning.
"I was numb at first," Bochy said. "You undestand how hard this is to do. You dream of this. I didn't sleep last night. You put everything into this. You get butterflies. It makes everything worthwhile. It's a lot of hard work."
The Giants did not clinch a playoff berth until the final day of the six-month season, but then ousted Atlanta and two-time defending National League champion Philadelphia to reach the World Series.
Texas, with the top-hitting lineup in baseball, was supposed to provide a test for the hottst pitching staff in the major leagues, but it was no contest, the Rangers batting only .190 and becoming the first team since 1966 to be blanked twice in the same World Series.
"It's what you want to do every year and we've got the team to do it," said Madison Bumgarner, who shut out the Rangers to win game four.
Where the Giants were once sparked by powerful sluggers, such as in 2007 when accused dope cheat Barry Bonds completed his controversial run to the US all-time homer record, the team has since evolved into a pitching-heavy squad.
San Fransisco pitchers surrendered only 583 runs in the regular season, their fewest allowed since 1968, and there is only one non-pitcher remaining from three years ago.
"We've been in the right place at the right time, where you're able to turn things around," Giants general manager Brian Sabean said. "You can do that when your pitching is that strong. You can do things that are 'gambles.'"
Sabean took chances on Cody Ross and Pat Burrell, players rejected by rival clubs, and stayed the course with young pitching talents Matt Cain, Bumgarner and Tim Lincecum when trade offers were made.
"We got contributions from everybody," Bochy said. "That's what it takes to win, those timely hits, but it seemed like it was somebody different every day."