By Jannelle So
This past week has been filled with historic events. And while the world awaited the much-talked about, much-anticipated, and highly-covered Royal Wedding of Prince William and Catherine Middleton, now officially the Duke and Duchess of Cambridge, I sat in front of my computer and looked back at the past seven or so days filled with proud moments for Filipinos in Los Angeles. So as I tried to figure out which to pick and write about or how I could sum everything up in a 750-word column, it dawned on me that I could instead write short pieces on each.
April 19th 2011 – Deep Gold 3D, a movie by Bigfoot Entertainment, premiered at the historic Majestic Crest Theater in Los Angeles. Kababayans took ownership and trekked to red-carpet event because the entire film was shot in the Philippines. Cebu, to be exact. The press line was packed by entertainment reporters, including Asian outfits like The Filipino Channel and "Kababayan LA" on LA18. Manny "Streetz" of "Manny on the Streets," a segment on the very popular "Ryan Seacrest" show on KIISFM was also present. And because he's Filipino, even though covering for a mainstream outlet, he stood right by us, the "Asian press."
The movie about two sisters, who accidentally uncovers a conspiracy related to gold bars, was written, directed and produced by Michael Gleissner, who also appears in the movie as the main antagonist. On the carpet interviews, he talked about why the film, with its plots and general storyline, was a perfect match for Cebu, the location he himself picked.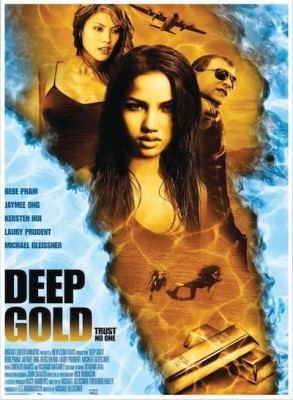 "The Philippines is a beautiful country. Cebu has breathtaking sceneries and beautiful women and I was convinced it was a perfect setting for an action-packed movie such as Deep Gold – with the car-chase scenes, things blowing up. And the underwater pictures were something else. Everything just came together," Gleissner said. "The cast and crew had the best four months of their lives while filming."
Gleissner added that though Deep Gold was not shot in 3D, it was edited and turned into a 3D in post-production and that's one of the things he was most proud of about his action-adventure masterpiece. "It's the demand right now."
Australian model and actress Jaymee Ong, who plays the part of one of the sisters, shared her mixed feelings: "I had a great time. I've been to the Philippines before and I love the people. There's warmth. But there was also the heat! And combine that with filming in the middle of the ocean, on a boat, for almost four months. That was challenging I got sick a lot. Dramamine every day."
The lead was played by Vietnamese-born model and actress Bebe Pham, who couldn't make it to the premiere because, the press was told, she was sick. But guests didn't seem to mind, especially the Filipino moviegoers, as they were just excited and full of pride that a film shot in Cebu was being showcased in Los Angeles, the mecca of entertainment, and featured the beautiful islands of the Philippines.
"It was a great movie. I'm very proud to see the backdrop of Cebu. I hope our kababayans will come out to support this film," said the Honorable Consul General of the Philippines in LA, Mary-Jo Aragon when we caught up with her after the screening.
But don't just take her word for it. Go and see it for yourself. Check your local listings and for more info, watch our features at www.youtube.com/kababayanla18. We are also going to run a half-hour special on "The making of Deep Gold" on Kababayan LA.
April 23rd 2011 – Thousand Hearts Concert took place at the Pasadena Civic Auditorium.
This benefit for Japan tsunami relief was dubbed as one of the biggest efforts undertaken by Asian-Americans in the entertainment industry. And because the program director is Filipino, Ted Benito of TDRZ, there was no lack of kababayan participation.
"I'm so happy this worked out with my schedule. I was supposed to be out of town but I found a small window so I'm glad it worked out," actor Lou Diamond Phillips (La Bamba) said in an exclusive interview. Kababayan LA was the only crew allowed to film backstage.
"Ted, a wonderful man, asked me to be a part of this. It is important that we come together to help our brothers and sisters in Japan. I myself have lent my time and name to over community causes like the veterans' fight. I make it a priority to do what I can for my community."
Notable Filipino-Americans in Hollywood, Mark Dacascos (Hawaiian Five-O) and Dante Basco (Take the Lead) also shared their time. But the big headliner for the Filipino community was Martin Nievera who, sang 12-minutes worth of Broadway classics. The Philippine Concert King has been known to support fund-raising projects both here and in the Philippines. On May 6, he's headlining a benefit concert in Las Vegas to raise funds for Overseas Filipino Workers displaced from Japan.
Grammy-nominated Japanese jazz group Hiroshima and YouTube phenom Paul Dateh also participated in the event. But the big scoop that was featured on TMZ was Iron Chef Masaharu Morimoto's "pipes." Known for his unique and interesting style of presenting food, the Japanese chef belted out his a cappella version of the Japanese song "You're the One that Rings that Bell" to the crowd's delight.
The last act was provided by Quest Crew. Backstage, I got to interview Filipino members of the famed dance group – Aris Paracuelles and Ryan Conferido. They talked about their recent concert tours which included a stop in the Philippines. Ryan confided to us that he was still single and talked about what kind of special woman she's looking for; along with hair products he uses on his hair. Great combo soundbites! Catch the full interviews on Kababayan LA.
April 28th 2011 – The Opening Night of Visual Communications Los Angeles Asian Pacific Film Festival went down at the Directors Guild of America on Sunset. Although there are quite a number of Filipino films in the festival lineup, there weren't too many Filipinos and Filipino-Americans who walked the carpet. I didn't mind because I wasn't working. I took the liberty of attending an event to just kick back, relax, and actually take delight in hors d'oeuvres and cocktails. But the thing that I enjoyed the most was the opening movie "Fast Five" which was directed by Justin Lin (Better Luck Tomorrow, Fast and Furious, Tokyo Drift).
If you're looking for an action-packed film with fast cars and intense blow up scenes, this is for you. It's currently getting mixed reviews from movie experts. But I'd recommend this to my friends. It's 120-minutes long; but it's full of suspense from start to finish, you wouldn't really feel the two hours blowing by.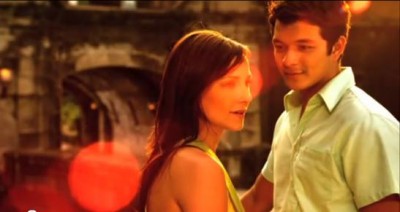 April 30th 2011 – Another movie I'd recommend is "Subject: I Love You" which stars Filipinos in Hollywood Dean Cain (Superman), Dante Basco (Take the Lead); and Filipino showbiz notables Jericho Rosales and Gary Valenciano; plus a cameo by Apl de Ap of the Black Eyed Peas. The lead lady role is played by Briana Evigan ("Step Up 2", "Sorority Row"). No, she's not Pinay and I think that's one of the charms of the movie – that it's able to combine Filipino and foreign actors; Manila and Los Angeles.
If you missed my interview with Jericho, Dante and Briana, catch it at www.youtube.com/kababayanla18.
There's actually more happenings, events and sidelights for the kababayan community. It's really a good time to be Filipino. There are lots of events that celebrate Pinoy Pride but I truly believe the phrase has evolved from simply supporting anything and everything Filipino to now taking ownership of and taking pride in being and having quality Filipino.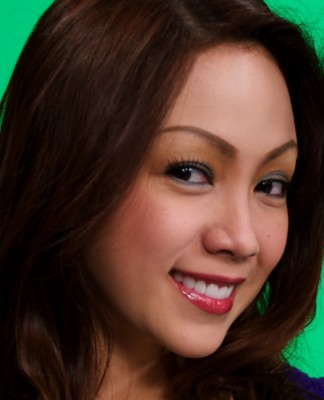 Jannelle So is Host/Producer of "Kababayan LA" that airs daily at 4:30pm on KSCITV-LA18. Catch previous programs at www.youtube.com/kababayanla18. Email her at kababayan@la18.tv.