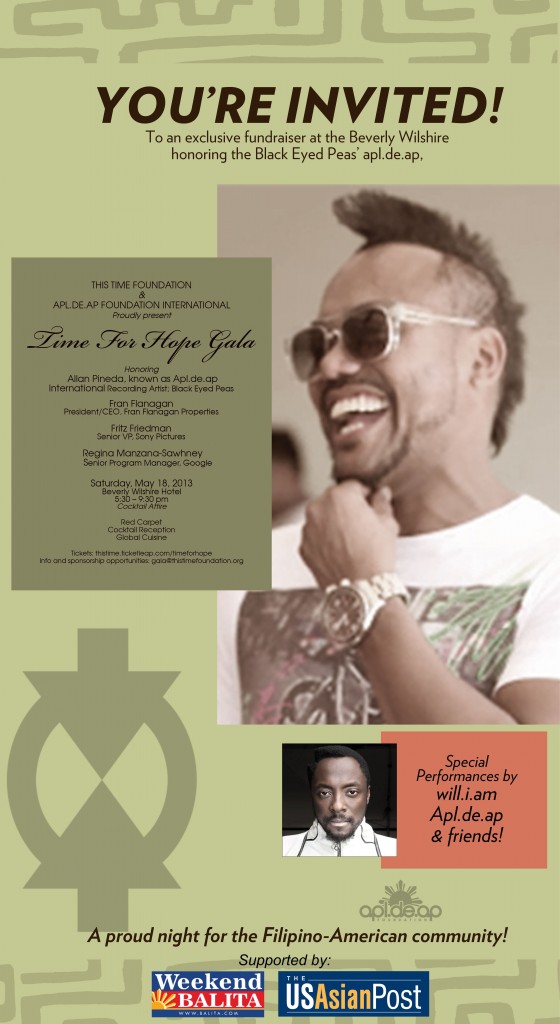 The 'This Time Foundation' and the 'Apl.de.ap Foundation International's' "Time For Hope" fundraiser gala will be held at the Beverly Wilshire Hotel, 9500 Wilshire Boulevard in Beverly Hills on Saturday, May 18, 2013. The star studded and music filled gala promises to be a night to remember for all honorees, attendees and prestigious sponsors in attendance.
This special & unique evening consists of incredible entertainment from the phenomenal Apl.de.ap and wil.i.am of the Black Eyed Peas and their talented musical guests/friends, global gourmet cuisine and a live auction. Celebrity guests in attendance include renown-recording artist Fergie, actor Josh Duhamel and many others will also be in attendance.
Co-hosts for the evening are Tamlyn Tomita and Mark Dacascos, and the co-presenters are actress Tia Carrere and actor Lou Diamond Phillips.
Time For Hope Award Honorees
The This Time Foundation gala honors the humanitarian spirit of those who have shown compassion and unselfish character.
The 2013 Award recipients
***Allan Pineda, Known as Apl.de.ap of the Black Eyed Peas, for his charitable work building schools and classrooms in desperately poor communities in the rural Philippines.
***Fritz Friedman, Senior Vice-President – Worldwide Publicity / Sony Pictures
 ***Regina Manzana-Sawhney, Senior Program Manager, Corporate Engineering / Google
 ***Fran Flanagan, President and CEO, Fran Flanagan Properties
For information about the Time For Hope Gala, contact:
Marcia Caldirola, Tel: 424-203-1118,
Cell: 310-922-0858 or gala@thistimefoundation.org
Or go online: www.thiistimefoundation.org
The This Time Foundation is a 501(c)(3) nonprofit. The mission of This Time Foundation is to bring hope and help to impoverished communities internationally and at home in America. Working with established international non-profits, the foundation raises funds, builds projects, and generates global awareness through a TV/web series and vast social media campaign that highlights challenges and presents viable solutions.