By Antoinette Bueno
Balita Media News Service
This Sunday, Filipinos all over world will have more of an excuse to watch the Oscars than the usual reason of seeing their favorite celebs in all their glammed out glory (not to mention this year's hosts, James Franco and Anne Hathaway, being one of the most attractive and youthful hosts audiences have seen in years). A record number of Filipinos are nominated for an Academy Award this year, arguably the highest honor you can achieve in not just Hollywood, but the entire film industry itself.
Four of the five Filipino nominees attended a press conference organized by Winston Emano of the Search to Involve Filipino Americans (SIPA) last Thursday, February 24, and talked not only about the excitement they have for this Sunday's awards, but what it means to be a Filipino in film – which is widely regarded as the one of the toughest industries in the world to break.
Matthew Libatique, nominated for best cinematography for his work on the disturbing but brilliantly shot thriller "Black Swan", which exposes the dark side of ballet and the toll it takes especially on its female performers, is no stranger to Hollywood. Quite possibly the most important Filipino in film today, Libatique collaborated with "Black Swan" director Darren Aronofsky on a number of critically acclaimed films, most notably "Requiem for a Dream," which he won an Independent Spirit Award for. He was also the cinematographer for the blockbuster "Iron Man" and "Iron Man 2" movies, and has done a number of music videos for the likes of Jay-Z, Incubus and Moby.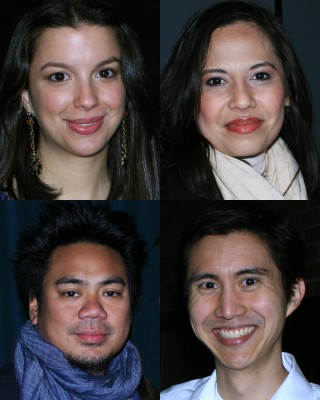 Though he is definitely extremely honored to be nominated for an Academy Award, Libatique shares that very early on in his career, he decided that awards weren't so much important to him as the actual work he was doing.
"Growing up I never really watched the Oscars," he confesses.
"I always kind of associated the Oscars with the Grammys where all the artists I liked growing up like KISS never got the awards," he laughs.
"So early on, I convinced myself that that kind of stuff wasn't important to me – that it didn't matter.
"But now I'm seeing first hand the intensity of it all and I'm really just enjoying the moment.
"I've been around celebrity before being in this business, and usually it doesn't phase me, but these last two weeks especially I've actually been star struck."
Producers of "God of Love" Gigi Dement, Stephen Dypiangco and Stefanie Walmsely, nominated for best short film (live action), were also on hand to share their excitement.
"I'm not going to lie. As soon as they announced the nominations I was looking online at dresses within the first two weeks," the half Filipino, half Caucasian Walmsely laughs.
"I have to admit I was really girly about the whole thing."
Walmsely, who Filipinos might remember from her "Eat Bulaga" hosting days, also stresses that she would love to see more diversity in film.
"I know I look Caucasion, but pinay na pinay ako at heart," she says sincerely.
"I want to see more faces like myself in film, to tell our stories.
"My goal is to go back to the Philippines and highlight our local cinema."
In fact, all nominees shared stories about the instant camaraderie they have with other Filipinos in the business.
"I remember seeing 'The Debut' and the theater was packed with Filipinos supporting the film," Dypiangco recalls, remembering the success of the Filipino-American film starring Dante Basco.
"That's when I knew I could do this thing."
Libatique also shared his warm experiences with other Filipinos.
"Every time you see another Filipino, you kind of do the head nod and you start talking about food, and whether or not they speak Tagalog," he jokes.
"But there really is an instant camaraderie there.
"The more we Filipinos acknowledge each other and make ourselves aware, the more we'll be visible in film because it'll be inevitable."
Dement was much more direct with her response: "With me, if you're Filipino, you're hired," she jokes.
And who will the nominees be wearing? Libatique and Dement will proudly sport formal wear by Filipino designer Oliver Tolentino, while Walmsely is also choosing from a number of different Filipino designers back in Manila.
"I told him I don't wear heels, but Oliver Tolentino was like 'no', and he got me in them," Dement laughs.
"I'm sure I'm going to trip and fall over."
But though getting glammed up is undoubtedly one of the highlights of the entire Oscar experience, let's be real – do the nominees expect a win come Sunday night?
"If you ask me it's a toss up between Deakins [cinematographer of "True Grit"] and Cronenweth [cinematographer of "The Social Network"], Libatique confesses.
"But I'm still going to prepare a speech.
"It's like bringing a condom when you go out…it's like, how do you know?," he jokes.
Dement was much more confident about her and her fellow Filipino producers' chances of winning Oscar gold for the quirky "God of Love".
"When I first saw the short film, I had an inclination early on that it would be nominated," she shares.
"But then I met the other nominees and they all have their own unique, really wonderful stories to tell and now I don't know!"
But regardless of whether or not the nominees come out victorious this Sunday night, they can be proud that they made the history books as part of a record number of Filipinos being nominated for this year's Academy Awards (the fifth being "True Grit" actress Hailee Steinfeld, who could't attend the conference on account of catching the flu in Japan the night before).
It is clear that they have already made it in the toughest business imaginable.
And Libatique has this to say to his fellow Filipinos trying to make it into the industry.
"Just be intelligent about whatever you're doing," he stresses.
"In this business, you're surrounded by intelligent people so you have to be intelligent as well."
And it's always nice to have someone to share your professional success with – especially if that someone just happens to be regarded as one of the most talented directors in the world.
"Darren [Aronofsky] and I were extremely aggressive in our 20s and we got along immediately when we met at AFI [the American Film Institute]," Libatique tells Balita Media about his and Aranofsky's special working relationship and friendship.
"It's really nice to have that someone to go through your career with."