ARLINGTON, November 2, 2010 (AFP) – At long last, generations of legendary San Francisco baseball stars have a championship to celebrate, thanks to the young Giants squad that finished off Texas on Monday in the 106th World Series.
From Willie Mays to Barry Bonds and Willie McCovey to Will Clark, those who found glory but no crown in a Giants uniform cheered a 3-1 victory that gave San Francisco a 4-1 triumph in Major League Baseball's best-of-seven final.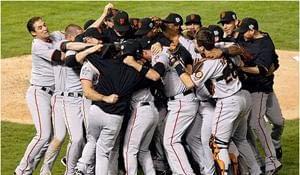 The Giants had not won a World Series title since 1954, four years before they moved the San Francisco, where supporters took to the streets in celebration just as past and present stars reveled in Texas.
"It's amazing," said Giants pitcher Tim Lincecum, who won the first and last games. "A lot of guys have been waiting for this day. All these Giant greats, they're saying thank you to us. That's awesome."
Giants manager Bruce Bochy welcomed heroes from bygone days into the locker room during the championship quest, adding a sense of purpose from the past for a young team that proudly wore such labels as "castoffs" and "misfits".
"I'm living a dream," Bochy said. "It's so hard to describe. It has never been done there for all our great teams.
"They were in the clubhouse. They were pulling for these guys. They wanted them to win. That support meant a lot to these guys."
Putting himself among the legends of the sport was Edgar Renteria, the 35-year-old Colombian shortstop who in 1997 singled in the Series-winning run for the Florida Marlins in the 11th inning of the seventh game.
Renteria's three-run home run in the seventh inning off Texas ace southpaw Cliff Lee provided all the San Francisco scoring. Only legends Lou Gehrig, Yogi Berra and Joe DiMaggio had driven in title-winning runs in two Series.
"This year, I think nobody believed what we could do and that's so amazing. It's unbelievable," Renteria said.
An injury-marred season for Renteria ended in celebration, heroics that the South American star says comne from extra concentration with a title at stake.
"Maybe I am more in focus," Renteria said of his World Series feats. "I know it's a different game because if you make a mistake, you're going to pay. That's why my focus is different, my level is different, and I just want to be the guy to do something. I can't explain that."
Bochy explains it by saying he could not envision leaving Renteria out of the lineup.
"I know how bad Edgar wanted it," Bochy said. "I couldn't be prouder for him. It's pretty incredible what he's done in his career."
Texas star Lee entered the World Series undefeated in eight playoff starts and left with two defeats.
"We had to beat Lee twice," Bochy said. "A lot of people probably figured that wasn't going to happen. But we did it."
The Giants pitchers, who made the Rangers the first team to be shut out twice in a World Series since 1966, earned Lee's respect as much as their hitters.
"They flat out beat us and their pitching was a huge part of it," Lee said. "The way (Matt) Cain pitched, (Madison Bumgarner) and Lincecum, those are three unbelievable outings on the biggest stage."
(By Jim Slater)