Approaching the one-year anniversary of his Thanksgiving night accident that led to a worldwide sex scandal, Tiger Woods said his life is now "blessed and balanced" when he appeared Thursday on ESPN's "Mike & Mike in the Morning" radio show, hosted by Mike Golic and Mike Greenberg.
The normally reticent Woods has been all over the media this week, writing an essay for Newsweek and starting his own Twitter account (@TigerWoods). Asked by Greenberg about the timing of these appearances, Woods said,  "Well, I think it's about time that I made a connection with the fans, who have been absolutely incredible to me over the last year. I went through some rough times and some tough moments and I want to say thank you to [the fans] and reconnect with them."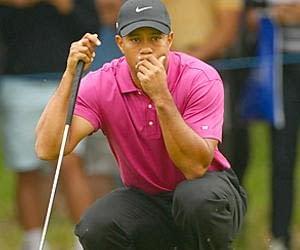 Sports Illustrated's Richard Deitsch reported Wednesday that ESPN agreed not to ask Woods about the details of his car accident or how much time he spends with his former wife, Elin. An ESPN spokesperson also told Deitsch that Woods chose to appear on the Mike & Mike Morning Show because of his relationship with the hosts.
"Tiger had been on Mike and Mike several times and Mike and Mike had developed a good relationship with Tiger over the years, so his people reached out to us agreeing to have him on," the spokesperson said.
Despite those restrictions, which ESPN said were lifted prior to the interview, Golic asked straight off about what happened on Thanksgiving night. While Woods declined to answer, saying he has been talking about Thanksgiving "for the past year," Woods did respond to a question about whether he thought he'd still be living the same way if he hadn't had that car accident last year.
"I don't know – that's speculation," Woods said. "All I know is what's transpired in my life and where I am now, and I am so much better now because of this past year. Obviously it was difficult for a lot of people, especially those closest to me, but it's been the best thing for me."
Woods also said: "If that didn't happen, I don't think I'd be as blessed and as balanced as I am now."

Woods has rarely sounded so positive as he did Thursday morning about his struggles on and off the course this year.
Woods's divorce was finalized in August and he had his first winless season on Tour.
However, much of the interview centered on topics that Woods has addressed at media conferences during the year.

As Woods has said previously, he told Golic and Greenberg that he had slowly gotten away from his core values, which led to his infidelities. Woods also said that when the time comes, he'll sit down with his children – Sam Alexis, 3, and Charlie, 1 – and talk to them about the scandal.
"Not even God can change the past," Woods said. "What I did was what I did, and I'll take full responsibility for my actions and tell them the truth. However long that takes, and wherever that conversation may lead, sit down face to face and eyeball to eyeball."
Here are some more highlights from the interview:
On whether Tiger has shut out celebrity friends like Charles Barkley and the people he associated with before the scandal?
"The people who I've known the longest and who are the closest to me are the people I relied on."
On his relationship with Dr. Anthony Galea, who has been charged with unlawful distribution of performance-enhancing drugs.
"Dr. Galea performed platelet rich plasma injections [PRP], which is something I needed because when I was coming back from my knee surgery I tore my Achilles, and that was not a fun time. The PRP injections helped that."
On people who think that Tiger has taken performance enhancing drugs
"Everyone is entitled to their opinion. I'd tell them exactly what happened. I've met with authorities and cooperated with them fully. And, uh … that's all I can say."
In one of the few moments when Woods talked about his golf game, he said he is working hard with his new coach Sean Foley to put the pieces of his swing together. Woods said that the fixes for missed shots are different in Foley's system than what he worked on with former coach Hank Haney.
Minutes before going on-air, Woods wrote on Twitter, "The best part about phone interviews is getting to wear shorts." He is next scheduled to compete at the Chevron World Challenge on Dec. 2 in Thousand Oaks, Calif.