By Marita Moaje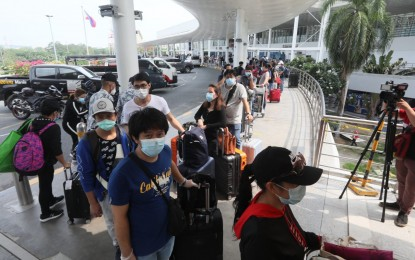 MANILA – The Department of Migrant Workers (DMW) will continue to issue Overseas Employment Certificates (OEC) in paper form while transitioning from analog to digital.
During the kickoff activity for the digital OFW Pass in Malacañang on Friday, DMW Secretary Susan Ople said overseas Filipino workers (OFWs) should not panic over the change.
The OEC will be available for two more months at least, subject to evaluation and assessment and based on the feedback of stakeholders.
Ople said that for 31 years now, OFWs have been availing of the traditional version of the OEC, which is proof of their employment abroad, when they leave or re-enter the country.
"You cannot change attitudes overnight," Ople said. "There are also more vulnerable workers that need a lot of hand-holding while experiencing this shift from analog to digital."
Ople said the launch is timely as the peak season for OFWs returning home for vacation is fast approaching.
She said DMW issued about 133,000 OECs for the entire November last year.
In January this year, considered an off-season for OFW arrivals, the Department issued about 73,000 OECs.
Traditional OEC costs PHP100 while the new OFW Pass can be downloaded and accessed for free, as directed by President Ferdinand R. Marcos Jr.
During the President's first State of the Nation Address last year, Marcos directed all government agencies, including the DMW, to digitize data for easier access by the public.
Meanwhile, the DMW has identified 10 countries and territories with the most number of OFWs as pilot testing sites for the OFW Pass.
These are the Kingdom of Saudi Arabia, United Arab Emirates, Qatar, Singapore, Malaysia, Oman, Japan, Taiwan, United Kingdom, and Hong Kong.
"(As) with every new mobile app, there are bound to be glitches, hence, the need to pilot-test before a full rollout," Ople said.
The DMW is also tapping some 500 OFW Pass teacher volunteers in 40 countries to provide technical assistance and assist their fellow workers who are not tech-savvy.
The volunteers have undergone training and familiarization sessions. DMW also prepared YouTube video tutorials.
"Under the Bagong Pilipinas style of governance, we are doing away with all these burdensome procedures and you will see later on the transformational shift that was made possible because of technology," Ople said. (PNA)