By Jean Malanum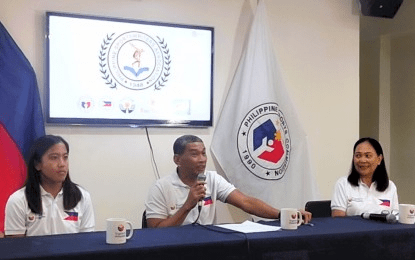 MANILA – The new-look triathlon federation is gearing up for the 2023 Asian Duathlon Championships slated Nov. 26 at New Clark City in Capas, Tarlac.
At least 50 elite men and women are expected to join the tournament organized by the Triathlon Philippines (TriPhil), the former Triathlon Association of the Philippines.
So far, 10 men from Australia, Cambodia, Singapore, and Indonesia and seven elite women have confirmed their participation.
Ramon Marchan, elected TriPhil president in August, vowed to continue and enhance the programs of his predecessor, Tom Carrasco.
"Let's just continue. We have programs that are there, that just need enhancement," Marchan said during the weekly Philippine Sportswriters Association (PSA) Forum at Rizal Memorial Sports Complex in Malate, Manila on Tuesday.
Among the programs he wants to boost and develop are the athletes' selection through ranking points, grassroots development programs, expansion of athletes' base and talent identification.
"It's a tough act to follow. Tom Carrasco is an icon and legend in Philippine triathlon. But what we will do here is to have a continuation, to have a little enhancement. But the real stars here are our athletes," Marchan said.
TriPhil secretary general Sarita Zafra, treasurer Ting Joson, Dr. Iby Bautista, Edgar Nicolas, Pet Salvador, Lala Cuoz and Under-23 elite athlete Erika Nicole Burgos also attended the PSA Forum.
Since no Filipino triathlete has qualified for the 2024 Paris Olympics, TriPhil is focusing on other major international events such as the 2025 Thailand Southeast Asian Games, 2026 Senegal Youth Olympic Games and the 2028 Los Angeles Olympics.
"This is the reason why our elite, high-performance athletes are really training hard locally and abroad, to be able for them to meet all the ranking points to qualify for the next Olympics," Zafra, also an international technical official, explained.
Marchan said TriPhil is planning to name Carrasco as chair emeritus in recognition of his achievements.
Carrasco is currently the senior vice president of Asia Triathlon, the governing body of the sport and all related multisport in Asia. (PNA)