By Ferdinand Patinio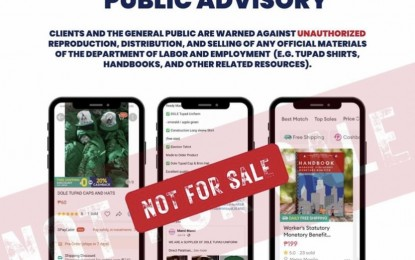 MANILA – The Department of Labor and Employment (DOLE) on Thursday warned the public against illegal reproduction materials of its projects.
In a social media post, the DOLE-National Capital Region (NCR) advised the public that official materials of the Department particular from its Tulong Panghanapbuhay sa Ating Disadvantaged/Displaced Workers (TUPAD) projects are free and should not be sold to the public.
"Not for sale. Clients and the general public are warned against unauthorized reproduction, distribution, and selling of any official materials (e.g. TUPAD shirts, handbooks, and other related resources) of the Department of Labor and Employment," it said.
The DOLE-NCR urged the public to immediately report to their office any transaction on the selling, illegally printing of materials of their projects.
It also warned that those who will be found involved in such activities will face the consequences of their actions.
"The public is encouraged to report directly to DOLE any information on individuals or entities who are illegally conducting said activities and they shall be dealt with accordingly," it said.
TUPAD, a DOLE project, provides emergency employment to workers affected by calamities.
Beneficiaries, particularly the informal sector workers, are provided emergency employment for 10 to 30 days.
Their salaries will depend on the minimum wage in the region where they will be employed. (PNA)