The Oscar nominees won't be announced until tomorrow, but in the meantime there are contenders for an even more eagerly anticipated prize: the Razzies, which honors the year's worst films and actors.
While "The Twilight Saga: Eclipse" did big box office, it also made a killing with the Razzies, earning nominations for worst picture, worst actor (Robert Pattinson and Taylor Lautner each got a nod), worst actress (Kristen Stewart) and worst supporting actor (Jackson Rathbone).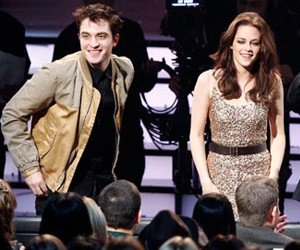 "Sex & the City 2" was more fizzle than sizzle, earning a worst picture nomination as well as a collective worst actress nod for all four of its leading ladies.
Jennifer Aniston may have flopped in theaters, but she was a Razzies sweetheart, landing on the worst movie and worst actress list for "The Bounty Hunter," plus getting an additional worst actress nomination for "The Switch."
Jessica Alba fared even worse, getting a worst actress nomination for four of her 2010 films: "The Killer Inside Me," "Little Fockers," "Machete" and "Valentine's Day."
Will Alba follow in the footsteps of Halle Berry ("Catwoman") and Sandra Bullock ("All About Steve") and pick up her award in person if she wins? Find out when the Razzies are presented on February 26.
Until then, here is a complete list of this year's nominees:
Worst picture:
"The Bounty Hunter"
"The Last Airbender"
"Sex & the City 2"
"Twilight Saga: Eclipse"
"Vampires Suck!"
Worst actor
:
Jack Black, "Gulliver's Travels"
Gerard Butler, "The Bounty Hunter"
Ashton Kutcher, "Killers" and "Valentine's Day"
Taylor Lautner, "Twilight Saga: Eclipse" and "Valentine's Day"

Robert Pattinson, "Remember Me" and "Twilight Saga: Eclipse"
Worst actress
:
Jennifer Aniston, "The Bounty Hunter" and "The Switch"
Miley Cyrus, "The Last Song"
Sarah Jessica Parker, Kim Cattrall, Kristin Davis & Cynthia Nixon, "Sex & the City 2"
Megan Fox, "Jonah Hex"
Kristen Stewart, "Twilight Saga: Eclipse"
Worst supporting actress
:
Jessica Alba, "The Killer Inside Me," "Little Fockers," "Machete" and "Valentine's Day"
Cher, "Burlesque"
Liza Minnelli, "Sex & the City 2"
Nicola Peltz, "The Last Airbender"
Barbra Streisand, "Little Fockers"
Worst supporting actor
:
Billy Ray Cyrus, "The Spy Next Door"
George Lopez, "Marmaduke," "The Spy Next Door" and "Valentine's Day"
Dev Patel, "The Last Airbender"
Jackson Rathbone, "The Last Airbender" and "Twilight Saga: Eclipse"
Rob Schneider, "Grown Ups"
Worst eye-gouging mis-use of 3-D (Special category for 2010!)
:
"Cats and Dogs: Revenge of Kitty Galore"
"Clash of the Titans"
"The Last Airbender"
"Nutcracker 3-D"
"Saw 3-D" (aka "Saw VII")
Worst screen couple/ Worst screen ensemble:
Jennifer Aniston & Gerard Butler, "The Bounty Hunter"
Josh Brolin's face & Megan Fox's accent, "Jonah Hex"
The entire cast of "The Last Airbender"
The entire cast of "Sex & the City 2"
The entire cast of "Twilight Saga: Eclipse"
Worst director:
Jason Friedberg & Aaron Seltzer, "Vampires Suck!"
Michael Patrick King, "Sex & the City 2"
M. Night Shyamalan, "The Last Airbender"
David Slade, "Twilight Saga: Eclipse"
Sylvester Stallone, "The Expendables"
Worst screenplay:
"The Last Airbender," written by M. Night Shyamalan, based on the TV series created by Michael Dante DiMartino and Brian Konietzko
"Little Fockers," written by John Hamburg and Larry Stuckey, based on characters created by Greg Glenna & Mary Roth Clarke
"Sex & the City 2," written by Michael Patrick King, based on the TV series created by Darren Star

"Twilight Saga: Eclipse," screenplay by Melissa Rosenberg, based on the novel by Stephenie Meyer
"Vampires Suck!" written by Jason Friedberg & Aaron Seltzer
Worst prequel, remake, rip-off or sequel (Combined category for 2010):
"Clash of the Titans"
"The Last Airbender"
"Sex & the City 2"
"Twilight Saga: Eclipse"
"Vampires Suck!"