By Jean Malanum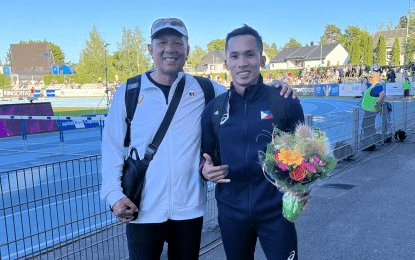 MANILA – Southeast Asian Games (SEAG) long jump champion Janry Ubas triumphed in the Motonet Grand Prix in Lappeenranta, Finland on Wednesday to boost his chances of qualifying for the World Athletics Championships.
Ubas registered 7.86 meters in his second attempt to win the event. He won gold in Cambodia SEAG last May with a 7.85-m leap.
Finnish Kasperi Vehmaa finished second with a personal best of 7.75m while Australian Zane Branco (7.70m) settled for third.
"The first goal was to get the points and I did that. About my performance, I'm happy because the distances of my jumps were what I want to achieve," Ubas, 29, a native of Villanueva, Misamis Oriental province, told the Philippine News Agency on Thursday.
With his impressive performance, Ubas earned 60 points in World Athletics.
Ubas will fly to Trieste, Italy at 6 p.m. Thursday to compete in the 16th Triveneto Meeting Internationale set on July 22.
He will then proceed to Germany for the International Stuttgarter Athletics Meeting on July 29.
"I hope I can keep my winning form in Italy and Germany. I will do my best," he said.
Ubas competed in the 25th Asian Athletics Championships in Bangkok, Thailand on July 12-16 where he finished seventh with a 7.98-m jump, improving the 7.95m he posted to win a silver medal in the Taiwan Open last May 28.
Ubas is now ranked 53 in the World Athletics rankings with 1160 points after earning 60 points in Finland and 90 points in Asian Championships.
The tournaments in Finland, Italy, and Germany are part of the World Athletics Continental Tour which would decide the fate of Ubas' bid to qualify in the World Championships scheduled from Aug. 19 to 27 in Budapest, Hungary.
The qualification window for the World Championships ends on July 30.
EJ Obiena (pole vault) and Robyn Brown (hurdles) have already earned World Championships berths. (PNA)