By Jean Malanum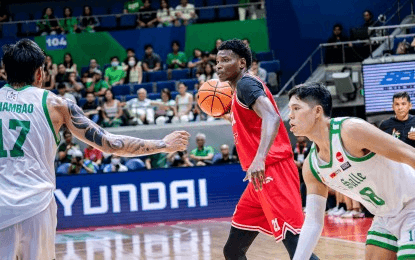 MANILA – The University Athletic Association of the Philippines (UAAP) announced on Tuesday the one-game suspension of University of the East (UE) rookie Precious Momowei after committing his second unsportsmanlike foul of the season on Sunday.
The Warriors' foreign player committed the second unsportsmanlike foul with 6 minutes and 43 seconds remaining in the second quarter during their game against the De La Salle University Archers.
La Salle won, 86-76.
More than sitting out the Warriors' game against the Ateneo Blue Eagles at Mall of Asia Arena in Pasay City on Wednesday, the 6-foot-9 Senegalese is now ineligible for any post-season award.
His first unsportsmanlike foul happened in the final 7:38 of UE's losing game (65-72) against Adamson University in the first round on Oct. 15.
UE is running fifth in the standings at 4-8.
University of the Philippines (UP) and National University (NU) are tied on top at 10-2, followed by La Salle (9-3), Ateneo (6-6), and Adamson (5-7).
Far Eastern University (FEU) has a 3-9 card while University of Santo Tomas (UST) is at the bottom at 1-11
Other games scheduled on Wednesday are UP against UST at 1 p.m., La Salle against FEU at 4 p.m. and NU against Adamson at 6 p.m. (PNA)