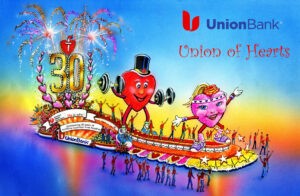 LOS ANGELES, CA –  Union Bank and the American Heart Association (AHA) Western States Affiliate announced today their premier float will be called "Union of Hearts." The float will be a part of the world famous 2016 Rose Parade® presented by Honda. The name pays tribute to the 30-year collaboration between the bank and the AHA.  For three decades, both have united in the fight against heart disease and stroke, the nation's No. 1 and No. 5 killers of both men and women. Survivors of heart disease and stroke, heart health champions and AHA advocates each with unique, inspiring stories will ride on the float as it travels through Pasadena on New Year's Day.  It will be decorated with more than 15,000 flowers and will include a daytime fireworks display. Phoenix Decorating Company will design and build the float that will stand 25 feet high, 18 feet wide and 55 feet long and is estimated to weigh 25,000 pounds.
To add to the celebration, the familiar song by the Bee Gees,"Stayin' Alive," will be playing in the background.  As the lyrics appropriately point out, "whether you're a brother or whether you're a mother, you're stayin' alive, stayin' alive." The tune  aligns with Union Bank and the AHA's mission to save lives by reducing the number of deaths attributed to heart disease and stroke. Furthermore, the AHA often uses the tempo of the song to teach people the correct rate of chest compressions when performing CPR. Studies show that when CPR training uses this song to teach the technique, people are more likely to remember the correct rhythm and feel more confident performing the life-saving skill.
For 30 years, Union Bank has been completely engaged in multiple aspects of the AHA's work, including fundraising, education, volunteer leadership, employee involvement and health messaging. In the last eight years alone, the bank's employees and clients have donated nearly $7 million in support of the AHA's critical research, education, and prevention programs.
Union Bank's support for the AHA is one facet of its broader commitment to community reinvestment throughout the areas where it operates. Last year, Union Bank contributed more than $13.7 million in charitable contributions to a wide range of non-profit organizations, and its employees donated nearly 75,000 hours of volunteer time to make a difference in their communities.
"We are truly excited to participate in the parade and all the tradition and pageantry that it has come to represent. This latest manifestation of our long-standing relationship with the AHA speaks directly to the heart of our mission to empower men and women to live longer, healthier lives free of cardiovascular disease and stroke," said Pierre Habis, head of the Consumer and Business Bank for Union Bank.
"We are honored to join Union Bank at the Tournament of Roses in celebration of three decades of collaboration to save lives and create a culture of health in our communities. Our alliance has made a huge impact through critical research funding and community outreach. We look forward to beginning our 30th year by bringing a healthy message to the millions of people who watch the Rose Parade," said Kathy Rogers, Executive Vice President for the American Heart Association Western States Affiliate.
The 127th annual Rose Parade will take place on New Year's Day 2016 in Pasadena, California. Originally started on January 1, 1890, the event is produced by the non-profit Tournament of Roses Association.  The Rose Parade is an integral part of America's New Year Celebration® and includes decorative floats, marching bands, and equestrian units. This year's theme grew out of the unique partnership between the Pasadena Tournament of Roses and the National Park Service.
About the Tournament of Roses®
The Tournament of Roses is a volunteer organization that annually hosts the Rose Parade®, the Rose Bowl Game® and a variety of associated events.  Nine hundred thirty-five volunteer members act as ambassadors of the organization and contribute upwards of 80,000 hours of manpower each year.  The 127th Rose Parade presented by Honda and themed "Find Your Adventure," will take place Friday, January 1, 2016, followed by the 102nd Rose Bowl Game presented by Northwestern Mutual.  Learn more at www.tournamentofroses.com and on Facebook, Twitter, Instagram and YouTube.
About the American Heart Association
The American Heart Association is devoted to saving people from heart disease and stroke – the two leading causes of death in the world. We team with millions of volunteers to fund innovative research, fight for stronger public health policies, and provide lifesaving tools and information to prevent and treat these diseases. The association is the nation's oldest and largest voluntary organization dedicated to fighting heart disease and stroke. To learn more or to get involved, call 1-800-AHA-USA1, visit heart.org or call any of our offices around the country.  Follow us on Facebook and Twitter.
About MUFG Union Bank, N.A.
MUFG Union Bank, N.A., is a full-service bank with offices across the United States.  We provide a wide spectrum of corporate, commercial and retail banking and wealth management solutions to meet the needs of customers.  We also offer an extensive portfolio of value-added solutions for customers, including investment banking, personal and corporate trust, global custody, transaction banking, capital markets, and other services.  With assets of $114.3 billion, as of September 30, 2015, MUFG Union Bank has strong capital reserves, credit ratings and capital ratios relative to peer banks.  MUFG Union Bank is a proud member of the Mitsubishi UFJ Financial Group (NYSE: MTU), one of the world's largest financial organizations with total assets of approximately ¥284.9 trillion (JPY) or $2.3 trillion (USD)¹, as of June 30, 2015. The corporate headquarters (principal executive office) for MUFG Americas Holdings Corporation, which is the financial holding company and MUFG Union Bank, is in New York City. The main banking office of MUFG Union Bank is in San Francisco, California.
1 Exchange rate of 1 USD=¥122.45 as of June 30, 2015