By Lydia V. Solis
Nora Jusi, born and raised in Mabini, Batangas, has recently been elected president or "Governor" of the United Batanguenos of Southern California, Inc., which was founded in 1987. UBSCI has members from the various towns of Batangas province represented by "Town Mayors."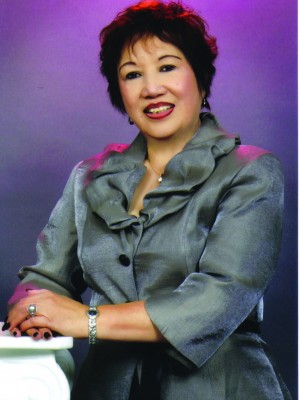 Among the Batanguenos' big fundraisers is a biennial beauty pageant during their anniversary galas when they proclaim and crown their "Mrs. UBSCI." Proceeds from these formal events help their kababayans in the Philippines with scholarship grants to high school graduates who can enroll at a college of their choice. The scholarship program started in 1994, and has not only assisted students in dire need, but has also increased the organization's membership.
Nora enjoys the support of her new set of officers: Romy Elepano, 1st vice governor; Roman "Boy" Castillo, 2nd vice governor; Minnette Manacsa, executive and board secretary; Chris Emnace, treasurer; Dante Maralit, auditor; Gloria Lina, assistant treasurer; Brenda Mendoza and Ogie de Villa, PROs; Nene Eliseo and Fe Maralit, business managers.
She can count on the cooperation of members of the UBSCI Board:Â  Cielo Carlos, chairperson; Cesar Anuran, Hermie Eliseo, Mike Lina, Alice Ruelos, Rose Sulit, Eddie Espina, Deo Villafranca, Allan Yema, Baby Elepano, Rudy de Torres, Dolly Hernandez, and Cesar Tolentino.
And appreciates wisdom from advisers Lydia Emnace, Zeny Zoleta, Cely Anuran, Willie Manacsa, Rose Pascua, Eric Villafranca, Paz Concordia, and Joe Carlos.
Nora's a widow, but strongly raised five children (three girls and two boys), who are all married and have children of their own: Vilma, married to Patrick Reynolds, from Maryland; Lito, married to Rhoda, from Denver, Colorado; Don Jusi and Rhose, also from Denver; Loida and Gershon dela Cruz from North Hills, Calif; and Eva and Steve Rosa, from Virginia.
No wonder, doting mother (and mother-in-law) and grandma travels a lot.
Nora has a business management degree, major in sales and marketing. A vocational nurse, she owned and operated an In-home Care Services Agency for ten years which she closed when her interest changed to a skin care business, distributing her products in different US states.
A multi-awarded community advocate, Nora co-founded the Filipino Community of San Fernando Valley, Inc., (Kalayaan 2011 grand chair Leo Maranan is its president), and she also organized the Mabini, Batangas Association of USA. She is a former member of the LA Mabuhay Lions Club where she received the "Business Woman of the Year" award in 2006, and from the Lions International, the "Outstanding Parent" award in 2010.  UBSCI has also bestowed her the "Family of the Year" award.
"But I find time to add spice to my life," quips Nora, "in spite of my business ventures and community activities." She joins medical mission tours to the Philippines and completes charitable projects to help kababayans here in the United States and also in the Philippines. She has a passion for ballroom dancing and is often seen with her friends supporting different organizations in their fund-raising dinner dances. But Nora also loves to read and finds great pleasure tending her garden.
Governor Jusi will be inducted with her fellow officers on July 23, 2011, at the Marriott Hotel in Burbank, Calif.