By Antoinette Bueno
Balita Media News Service
With its massive celeb following including the likes of Tom Cruise, Zac Efron and Vanessa Hudgens, and plans to turn the rock musical into a full blown feature film rumored to be starring a plethora of A-listers like Gwyneth Paltrow and Anne Hathaway, it's safe to say that "Rock of Ages" is a bona fide hit.
And it's not hard to see why.
Set in 1987 on the Sunset Strip, "Rock of Ages" is for anyone who's found themselves blasting unapologetic, hair metal rock in their car while enthusiastically banging their heads. Who hasn't found themselves singing Journey's "Don't Stop Believing" at the top of their lungs?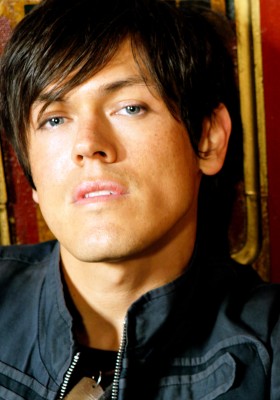 "Rock of Ages" captures this fun, totally carefree vibe of pure rock while telling the love story of a small town girl and a big time rocker while they fell in love to the greatest songs of the 80s. All the classic rock you can handle is packed into the popular show, where audience members are encouraged to sing along to not only Journey, but the awesome, meant for the arena sounds of Styx, Poison and even Whitesnake just to name a few.
Although the show is heavily associated with "American Idol" alum Constantine Maroulis, another cast member is making waves for his charismatic and crowd pleasing performance. Filipino-Spanish MiG Ayesa, who plays larger than life rocker Stacee Jaxx, has been earning rave reviews for his role, but shares with Balita Media that yes, even playing an obnoxious rock star who he describes as "part Bon Jovi, part Brett Michaels meets Axl Rose and Keith Richards" has its drawbacks.
"I want people to know that that's not me!", Ayesa laughs.
"I like to call him [the character Stacee Jaxx] a weapon of mass destruction.
Basically he's the embodiment of everything your parents tell you to stay away from, that big rock star who's just all out there."
But audience members don't just remember Ayesa for his performance in "Rock of Ages". Ayesa was also one of the top three finalists of the reality competition "Rock Star: INXS". The CBS show featured 15 contestants vying for the position of lead singer of legendary band INXS and was hosted by Brooke Burke and former Jane's Addiction and Red Hot Chili Peppers guitarist Dave Navarro.
"For me, it was a life changing experience," Ayesa recalls.
"Coming into the show I was very confident because I was already a West End performer in London performing the music of Queen, and Brian May [of Queen] and the show's producers thankfully gave me their blessing for me to compete in this thing."
"But all of a sudden I found myself in the middle of the pack and I was like 'How did that happen?'
But I just wanted to get into the finals for my friends and family…and since I was a finalist I ended up winning a very cool car!" he laughs.
But Honda Civic aside, Ayesa quickly learned that being on a hit reality show did not equal instant success.
"It's not like how 'American Idol' is now where you're already set up with management and everything is ready to go," he explains.
"This was a new thing and nobody knew what to do with it yet."
Yes, Ayesa was quickly signed to big time label Universal Music after "Rock Star:INXS", but because of a pending lawsuit they had that had nothing to do with Ayesa, none of his music was being released.
"I look back and it's like they say, 'Sayang'," Ayesa says.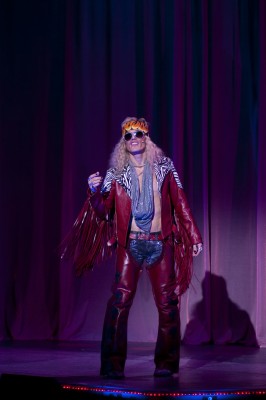 "After the show there wasn't a place I would go to where people didn't recognize me from the show and I was desperately trying to cling on to that momentum, but you know, these things just weren't in my control."
However, Ayesa did come out with a green card out of the whole situation, and is grateful since he is now free to tour all over the U.S., and he even currently lives with his wife in New York.
"I love it there and my wife [who started her own personal training business] is absolutely blossoming in New York," he says proudly.
"We're at a really great stage in our lives."
Ayesa however, is no stranger to moving around. Though he was born in Manila, Ayesa moved to Sydney, Australia at the age of two and has also previously lived in London in order to further his singing career. Upon first glance, Ayesa is clearly mestizo, and shares that aside from having Filipino and Spanish roots, he also has Austrian and Chinese blood as well.
"I like to call myself a global citizen of the world," he says.
And although Ayesa describes his Tagalog speaking skills as "magulo", he clearly has roots in Filipino culture as he fondly remembers flying back to the Philippines every Christmas growing up.
"This was my grandfather's wish, that I would really get to know my culture and all of my cousins," he explains.
"And I'm grateful for that – my cousins are like my brothers and sisters."
It was also Ayesa's dream growing up to be a recording artist. He first discovered his love for singing when as a boy, he used it to overcome a potentially socially debilitating stutter.
"When I was like four or five I was really embarrassed to speak in public because I had this stutter.
But I realized that every time I would sing or play a part in a play it would go away.
Your mind works faster than you can process it, that's how it works," he explains.
"After that I started taking piano lessons, playing songs from my Billy Joel songbook, and I started writing songs. It just grew from there."
Ayesa describes his original music as "rock/pop/soul" and likens it to the sounds of his favorite artists such as Lenny Kravitz and Maroon 5 with a little bit of John Mayer and Jason Mraz thrown in for good measure.
He's now working on his second CD, and has already toured the world, including playing a show in the Philippines.
But currently, he's enjoying playing the high profile role of Stacee Jaxx in "Rock of Ages," which is no doubt one of the biggest roles of his career so far. His favorite scene is performing Bon Jovi's "Wanted Dead or Alive", and it's clear as he describes the explosive number that he's having the time of his life on the hit musical.
"You know, this ["Rock of Ages"] isn't "Wicked" or any of those other musicals you've seen," Ayesa laughs.
"It's set in a bar, there's strippers and it's gritty but it's so much fun and everyone really gets into it and sings along."
And Ayesa has this to say to his fellow Filipinos who are no doubt eager to watch him in the much hyped show.
"I just really hope all of you enjoy the show and don't judge me for playing a rock star," he laughs.
"But I really am proud to be representing the Philippines and to know that I'm carrying that torch."