By Joyce Ann L. Rocamora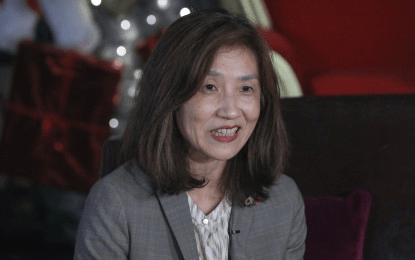 MANILA – Japan's push to bolster security cooperation with the Philippines to promote a "free and open Indo-Pacific region" is not targeted against any country, Japan's Ministry of Foreign Affairs (MOFA) said Saturday.
Tokyo and Manila announced on Friday a number of initiatives to forge closer defense and security cooperation, including agreeing to start the negotiations on a reciprocal access agreement (RAA).
In an interview on the margins of Prime Minister Fumio Kishida's official visit to the Philippines, Japanese MOFA Press Secretary Maki Kobayashi-Terada pointed out that Kishida and President Ferdinand R. Marcos Jr. have already agreed to have "more beneficial defense cooperation" to "build resilience" in the region together as early as February.
"We thought that it's going to be more important to have further cooperation — visiting each other, (having) more training with each other and that it's easier to have an RAA to have more frequent cooperation together," she said.
She also said that the RAA is meant to merely facilitate and remove "lengthy procedures" if the Armed Forces of the Philippines visits Tokyo or the Japan Self-Defense Forces visits the Philippines for possible training and exercises or humanitarian assistance and disaster relief operations.
One commentary in China posited that the rapid enhancement of Japan-Philippine security relations — as both parties to the East and South China Sea rows — could be a bid to contain China.
Kobayashi-Terada reiterated that the improving Tokyo-Manila ties is "not destinated" against any specific country.
"We consider that it is important to increase resilience, increase capacity because the Philippines is situated in a very important sea-lane not only for us but for the region and for the international community because there is extensive export and import and all the navigation going around in this region so we think it's important to secure the capacity," she told reporters.
But she echoed Kishida's commitment that Japan will work with the Philippines and the US in protecting a rules-based maritime order in the region.
"One (of the important things) is sending the clear message that we do not accept any attempts of changing the status quo by force or by economic coercion and we have to abide by international law," she said.
Apart from an RAA, Japan and the Philippines signed a JPY600 million Official Security Assistance grant aid to help the Philippine Navy acquire a coastal radar system and improve the country's maritime domain awareness capabilities. (PNA)