By Pia Cabanela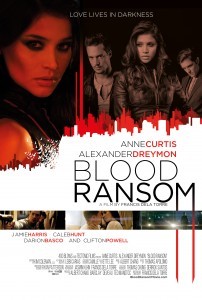 Let's face it.  Young Filipino female talents back home are pin balled to doing two or more of a certain type of movie roles such as an aggravated mistress, the scorned wife, a damsel in distress or the adorable leading lady of an equally charming leading man. That is why I find Anne Curtis'  role in Francis De La Torre's Blood Ransom just the whiff of fresh air I've been waiting for. Finally she is shedding tears for her own survival. Beyonce will be proud.
In 2011, De La Torre made noise at the Newport Beach Film Festival with the movie, Subject: I Love You. It was an acclaimed film based on the virus of the same name which impacted millions of computers worldwide back in 2000. This time, he directs yet another film which can easily be construed as a love story to most but is only secondary to its dark plot.
The story opens with Anne as a lost soul who is days away from becoming a vampire. Her character seemed meek up front as she struggles between morality and the inevitable. A damsel, nay in distress, she is kidnapped in exchange for ransom and is protected by a man she loves. European born actor Alexander Dreymon is her mortal lover and guardian, whom comes off as a modern day Romeo, but is blindly fighting a chance for a reciprocated love.
"It was very risky to showcase Anne apart from the usual roles Filipinos are used to seeing her in. But I wanted to help open their minds and hopefully they'll see it as naiiba and come to love the film and Anne." De la Torre muses when we spoke on the phone before the film's release in the U.S.
The film is dark and filled with intense emotions which were smartly cradled by the director's choice in lighting and somber music. He recalls it was a "creative decision" to shoot most of the scenes at night. Shifting hours resulted to a well crafted despair from Alexander's character whom Francis describes as a morning person. The wide awake, almost somnambulist-like performance quickly draws its audience to his quest.
"I chose to mix the temperatures, warm and cool, to enhance the duality in her (Curtis) character, there's a cold yet warm human in her." Francis explains.
Playing a cop and Alexander's best friend Darion Basco praised the director for his style in letting the actors mold themselves into their character. "He was respectful not just to Anne's but to everyone's process." As a US based Filipino actor, Darion and I briefly discussed the noticeable Filipino pride across the film.
Snippets of Filipino culture are seen in a number of scenes, "I think the two cultures were fused well, we have a strong (Filipino) presence in California, our community is evolving."
For the director, "It was not a conscious effort as a Filipino filmmaker but when you see the film, you'll know it symbolizes more than what it seems. It felt organic that they were there.".
It may be a blood-sucking temptress amidst a morality and love, if anything, this film emancipates structures, of what a normal love is, of what females roles should be.
Blood Ransom in select theatres across Los Angeles starting October 31st.