By Joyce Ann L. Rocamora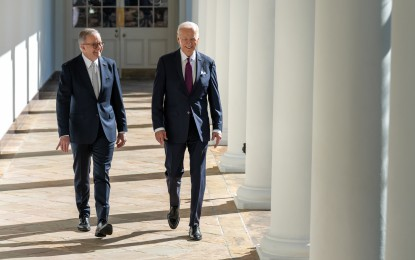 MANILA – United States President Joe Biden and Australian Prime Minister Anthony Albanese on Thursday called out China for its "dangerous use of coast guard vessels and maritime militia" in the South China Sea.
Both leaders expressed concern over the Oct. 22 collision between a Chinese Coast Guard vessel and a Filipino boat heading to resupply troops stationed in Ayungin Shoal.
In a joint statement, Biden and Albanese said the US and Australia are concerned about China's "excessive maritime claims that are inconsistent with international law" as well as "unilateral actions" that may raise tensions in the region.
"We strongly oppose destabilizing actions in the South China Sea, such as unsafe encounters at sea and in the air, the militarization of disputed features, the dangerous use of coast guard vessels and maritime militia, including to interfere with routine Philippines maritime operations around Second Thomas Shoal, and efforts to disrupt other countries' offshore resource exploitation," the statement read.
Both leaders reaffirmed support for the 2016 South China Sea Arbitral Award, describing it as "final and legally binding" on both China and the Philippines.
"We resolve to work with partners to support regional maritime security and uphold international law," the leaders said.
Ironclad commitment
In a separate joint presser, Biden warned that any attack on a Filipino aircraft, vessel, or armed forces will invoke the US-Philippines Mutual Defense Treaty.
"Just this past week, the PRC (People's Republic of China) vessels acted dangerously and unlawfully as our Philippine friends conducted a routine resupply mission within their own — their own exclusive economic zone in the South China Sea," he said.
"I want to be clear — I want to be very clear: The United States' defense commitment to the Philippines is ironclad. The United States' defense agreement to the Philippines is ironclad," he added. (PNA)