By Joyce Ann L. Rocamora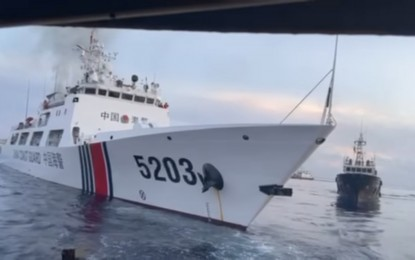 MANILA – Four American lawmakers on Wednesday expressed support to the Philippine government following a collision incident near Ayungin Shoal after a Chinese Coast Guard vessel conducted dangerous blocking maneuvers against passing Filipino resupply boats.
House Foreign Affairs Committee Chairman Michael McCaul, Ranking Member Gregory Meeks, along with Subcommittee on the Indo-Pacific Chairwoman Young Kim and Ranking Member Ami Bera, issued the statement and called out China over what they called "maritime intimidation" in the South China Sea.
"We unequivocally support the Philippines and condemn the unlawful actions by the Chinese Coast Guard in the South China Sea," the statement read.
"The Chinese Coast Guard and maritime militia vessels intentionally hit Philippine Coast Guard ships over the weekend and continue to violate international law, endanger Filipino crew members, and obstruct Philippine vessels' access in their own exclusive economic zone," it added.
The four legislators believe that the incident is part of a "larger pattern" of the People's Liberation Army Navy, the Maritime Militia, and the Chinese Coast Guard's "aggressive and provocative behavior in the South China Sea, where it actively intrudes in other states exclusive economic zones".
"We condemn Beijing's maritime intimidation and welcome the Biden administration's announcement to increase joint patrols with the Philippines and other partners in the South China Sea," the lawmakers said.
They also lauded the Biden administration for reaffirming its commitment to upholding its obligations under the Mutual Defense Treaty in case of an armed attack against the Philippines in the West Philippine Sea.
Last month, the Indo Pacific-Subcommittee discussed the situation in the contested sealane and held a hearing titled "Lasers and Water Cannons: Exposing the CCP's Harassment in the South China Sea".
The Oct. 22 incident drew international attention and support, including from Japan, South Korea, Canada, European Union, the Netherlands, Germany, France and Denmark.
On Oct. 23, the Japanese Ministry of Foreign Affairs said Tokyo is concerned over the "recent surge in tensions in the South China Sea," including the dangerous action that caused a collision between Chinese and Filipino ships.
"Japan believes that the issue concerning the South China Sea is directly related to the peace and stability of the region and is a legitimate concern of the international community including Japan, and thus Japan opposes any unilateral attempts to change the status quo by force as well as any actions that increase tensions in the South China Sea," it said.
The Japanese government said it would continue to cooperate with the international community, including the US and member states of the Association of Southeast Asian Nations, to "protect free, open, and peaceful seas". (PNA)