MANILA, January 27, 2011 (AFP) – The United States said Thursday it would help boost the Philippines' capacity to patrol its waters as part of a larger goal of keeping vital Asian sea lanes open amid the rise of China.
The pledge came from US Assistant Secretary of State for East Asian and Pacific Affairs Kurt Campbell on the first day of an inaugural security dialogue between the two allies.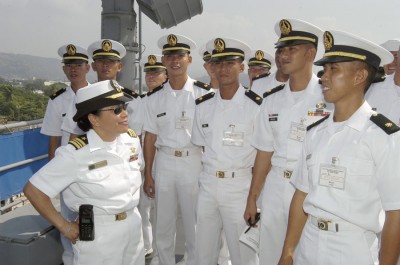 "One of the subjects for discussions tomorrow will be the bilateral steps that (we) can take to increase the Philippines' maritime capacity," Assistant Secretary of State for East Asian and Pacific Affairs Kurt Campbell said.
This would enhance the Philippine navy's capacity to police its waters, he told a joint news conference.
"We think this is a critical component of our partnership. Much of this work is already underway and we seek to intensify it in the months and years ahead," he said without giving details.
The US had key air and naval bases in the Philippines until 1992, when the Philippine senate rejected a new treaty.
The US ruled the Philippines as colonial power from 1901 to 1946 and the two countries remain linked by a 1951 mutual defence pact.
In recent years, as China's economic influence grew in the region, its new-found political assertiveness saw it come in dispute with its neighbors over claims to areas of the South China Sea.
China, Taiwan and Association of Southeast Asian Nations (ASEAN) members Brunei, Malaysia, the Philippines and Vietnam all claim the potentially oil-rich Spratly chain of islands in the South China Sea.
The area is also one of the world's most important shipping lanes.
"I think there's a broad recognition that this is a critical waterway, and its criticality will likely increase in the times ahead," Campbell said.
While China has asserted that the disputes must be settled directly between itself and rival claimants, Campbell repeated the US position that a broader framework was better.
"We think maritime issues should be addressed in larger settings as well, and we think that's important in order to develop confidence on these issues and the larger Asia-Pacific region," he said.