By Kris Crismundo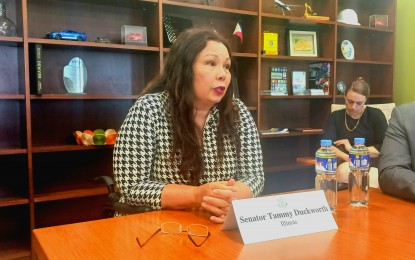 MANILA – Visiting United States Senator Tammy Duckworth has urged manufacturers of electric vehicle components to consider putting up their supply chain in the Philippines, with outputs to be exported to the US.
Duckworth told reporters here Tuesday that the Philippines is a viable location for the e-vehicle manufacturing ecosystem because of its natural resources and for being a long-time ally of the US.
She particularly encouraged e-vehicle battery manufacturers from Japan, South Korea and Taiwan that are exporting to the US market to expand their businesses "in a friendly nation" and "a long-time ally like the Philippines," as this would be a "win-win-win situation for all three nations."
The US last year passed the Inflation Reduction Act, banning e-vehicle batteries with components made in China.
"Many opportunities to partner, along with other nations like Japan, Korea and Taiwan in manufacturing that would leverage the resources in the Philippines both human and natural resources. But also to manufacture for the US market to help solve one of the biggest problems that we have in our economy, which is a broken manufacturing supply chain," she added.
The US lawmaker said one of her agenda in visiting the region is to look into possible cooperation with the Philippines to fix the US manufacturing supply chain issue on e-vehicles.
"What an interesting idea to partner with companies and basically create new manufacturing ecosystems outside of the PRC (People's Republic of China) because for so long, everything is manufactured in the PRC. And so, when I look at where do we want to create the ecosystems, I can't think of a better place than the Philippines because you've been our longest ally and national security partner," Duckworth said.
She added that aside from building on the military and economic ties between the two governments, the Philippines is also in a "strong solid foundation" to host these manufacturing activities that would benefit both the US and the Philippine markets.
The US senator arrived in Manila on Sunday and met with President Ferdinand R. Marcos Jr., Environment Secretary Maria Antonia Yulo-Loyzaga and Energy Secretary Raphael Lotilla, as well as Illinois-based companies operating in the Philippines. (PNA)