By Joyce Ann L. Rocamora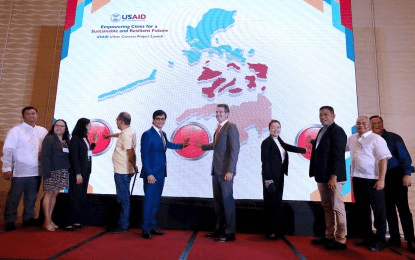 MANILA – The United States government on Thursday formally launched a USD11-million program that would help nine cities across the Philippines create an enabling business environment to attract more investments.
The nine cities are Batangas, Legazpi, Puerto Princesa, Iloilo, Tacloban, Tagbilaran, Cagayan de Oro, General Santos and Zamboanga.
Through the five-year Urban Connect project, the US Agency for International Development (USAID) will provide technical assistance and work with relevant government agencies to advance e-government solutions and improve local regulatory environment for private investment in those cities.
The project will also help enhance the cities' delivery of basic services like health and education by strengthening public financial management.
"The project was conceived with a clear understanding that our cities are not only key engines of progress, but also powerful levers for creating a better and more equitable future for all citizens within the context of sustainable development," USAID Urban Connect Activity Chief of Party Alex Brillantes Jr. said during the project launch in Quezon City.
Apart from helping the cities address institutional and regulatory constraints, Urban Connect will also assist in crafting strategies to attract new investments.
The initiative will also review how e-services and online platforms may be more widely adopted and used by citizens, businesses and other government agencies.
"Our approach is comprehensive, touching on various aspects of urban life from economic development to development of health and education, from improved public services to increased private sector engagement, USAID will align efforts across sectors to develop holistic solutions that address the root causes of complex development challenges," USAID Philippines Mission Director Ryan Washburn said.
The USAID started identifying its partners last August and will meet with the representatives of all nine cities next month.
The program will run from 2023 to 2028 and will work with a wide range of partners, including the Department of the Interior and Local Government (DILG), National Economic and Development Authority (NEDA), Anti-Red Tape Authority (ARTA), Department of Finance (DOF), Department of Trade and Industry (DTI), Mindanao Development Authority (MinDA), various leagues of local government units, as well as civil society and non-governmental organizations.
The project will also work in partnership with the private sector, including business chambers and trade associations.
DILG Secretary Benjamin Abalos Jr. and ARTA Director General Ernesto Perez, who were present at the launch, both committed their agencies' full support to the initiative.
Also present at the event to convey messages of support were NEDA Assistant Secretary Sarah Lynne Ducanes and Union of Local Authorities of the Philippines president and Quirino Governor Dakila Carlo Cua. (PNA)