TFC@theMovies brings top-grossing Filipino film of all time to over 40 theatres in U.S. and in Canada starting January 30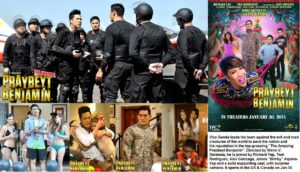 REDWOOD SHORES, CA – When gay soldier character Benjamin "Benjie" Santos VIII, played by host-actor-singer Vice Ganda, first came into public conciousness in 2011 by way of ABS-CBN Star Cinema's action-comedy, "The Unkabogable: Praybeyt Benjamin", the character became an icon for unlikely heroes and the film became the first in Philippine cinema history to break the P300 million mark.
The good news is that Benjamin is back and so is the team of Vice Ganda and director-writer Wenn V. Deramas to give life and zest to the sequel, The Amazing Praybeyt Benjamin, the box-office toast of the recently held 40th Metro Manila Film Festival.  Again, the dynamic artist-director duo wove magic at the box office, this time breaking all Philippine records by grossing Php435 million as of January 14, 2015.
TFC@theMovies happily brings this comedy treasure to North America starting January 30, and will screen in over 40 theaters in U.S. and in Canada.
In The Amazing Praybeyt Benjamin, after defeating terrorists and saving the world from a zombie attack, Praybeyt Benjamin is promoted to colonel and has become an international superstar.  Once simple and humble, he allows success to get into his head.  After making a fatal mistake in one mission by disobeying his new commanding officer General Wilson Chua (played by Richard Yap), Benjamin is subjected to disciplinary action.  He is given a new mission: gain the confidence of General Chua's brat kid, Bimbee (played by James "Bimby" Aquino-Yap) and extract from the General's estranged child information on the secret locations of three active terrorist bombs planted in the country. It doesn't help that in trying to do so, Benjamin finds himself frequently clashing with pesky housemaid Gundina (played by Alex Gonzaga).  And, of course, there is handsome villain Janjaranjan (played by Tom Rodriguez) to contend with.
"The team behind The Amazing Praybeyt Benjamin has one mission and that is to make you laugh. They made box-office history doing exactly that," said ABS-CBN Global Head of Theatricals John D-Lazatin. "The cast is comprised of masters of comedy – from the material, to their timing, to their chemistry with one another, and to their genuine desire to entertain the audience with their talents.  It is that unpretentious singularity of intention and focus that makes watching The Amazing Praybeyt Benjamin so much fun.  We want to bring that unique brand of Filipino fun to movie audiences here in North America."
Completing the cast are Eddie Garcia, Al Tantay, Vandolph Quizon, Nikki Valdez, Kean Cipriano, Anja Aguilar, DJ Durano, Ricky Rivero, Dennis Padilla, Malou de Guzman, Abby Bautista, Rhed Bustamante and delightful surprise appearances by famous celebrities.  For more information on The Amazing Praybeyt Benjamin,visit http://www.tfc-usa.com/atthemovies/
About ABS-CBN International 
ABS-CBN International was founded in April 1994 to be of service to all Filipinos. With the launch of The Filipino Channel (TFC), the company became the first and most successful Filipino content distribution company in the U.S. The company offers telecommunication, retail, theatricals, money remittance and cargo services, online audio and video streaming, IPTV, On Demand, along with philanthropic support for Filipinos and the communities they now call home.  Based in Redwood City, CA, ABS-CBN International is a subsidiary of ABS-CBN Corporation, the Philippines' largest entertainment and broadcasting company, through ABS-CBN Corporation's wholly-owned subsidiary, ABS-CBN Global Hungary Kft. For more information, visit www.tfc-usa.com.