By Nanette Guadalquiver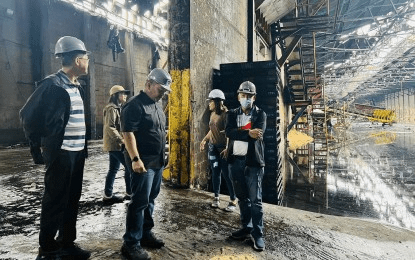 BACOLOD CITY – The fire that hit the warehouse of Victorias Milling Company, the country's largest refined sugar producer based in Victorias City, Negros Occidental on Sunday night, would unlikely affect the sugar supply and the scheduled start of its milling operations this week.
Administrator Pablo Luis Azcona of the Sugar Regulatory Administration (SRA), who visited the mill site Monday, said he was saddened after seeing the video footage of the incident.
The management is still assessing the damage the fire incident has brought to the company.
"The fire had minimal effect on the sugar supply. I don't think it will hamper VMC's efforts to start the crop year," he said in a statement.
The VMC had earlier announced that it will start milling for crop year 2023-2024 on Sept. 1, and will start accepting canes on Aug. 30.
"In hardship, greater things come out, and I know you guys will come out better," Azcona told the VMC management.
The VMC said in a statement that the fire started "at the mill compound at around 6:40 p.m. and was contained before 8:50 p.m."
"The cause of the fire is still under investigation. No injuries arising from the incident have been reported," it added.
Aside from the Bureau of Fire Protection in Victorias City, fire dispatch units from neighboring local government units and volunteer fire brigades also responded.
On Sunday night, Mayor Javier Miguel Benitez came to check the status of the incident together with his uncle, Rep. Jose Francis Benitez.
"We thank the immediate response of fire stations from various local government units. The damage is being assessed. We hope and pray for the fast recovery of VMC from this incident," the lawmaker said. (PNA)