It was so much more than a "Teenage Dream."
The 2010 Victoria's Secret Fashion Show had angels, tough girls, sporty girls, country girls, heavenly girls, wild things, and more bras, thongs, panties, bustiers, and unmentionables than imaginable. It also had one of the greatest and most fun finales ever seen on a catwalk.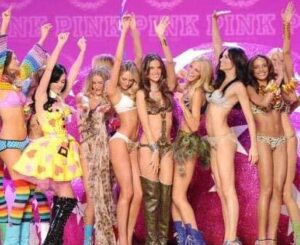 For a live audience of several hundred onlookers, Katy Perry rocked out a medley of some of her most well-known pop tunes, including "Teenage Dream," "Hot 'N Cold," and "California Gurls," while siting in a giant pink Swarovski crystal encrusted dog. The models danced and skipped their way down the runway wearing brightly colored items from the company's "Pink" division.
The front row, which included Alexander Wang, Serena Williams, Gerard Butler, Adrien Grenier, and more, was on its feet in what became a spontaneous dance party. This did not, however, overshadow the performance of the biggest fan in the crowd – an unexpected Vin Diesel.
The hulking movie star jumped to his feet, danced and pumped his fist in the air to the beat of Akon's performance of "Angel," earlier in the show.
"I'm in a very fortunate place where I can show love when I feel it," Diesel told StyleList after the show. Moments later, Diesel saw Akon and the two were screaming like long lost friends.
Did we mention the place was full of nearly naked women, each more beautiful than the last?
Tune in to catch the full show on Nov. 30 at 10 p.m ET on CBS.
(By Lisa Marsh for StyleList)