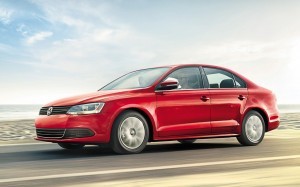 The American automotive industry has throughout its history endured a multitude of ideological and technological changes. In past years, America was known for its muscle cars, which were loud, roaring and powerful, yet they often lacked efficiency and handling. Volkswagen, though foreign in origin has become one of America's most pertinent automotive manufactures.
In more recent times, due to economic hardship, increasing gas prices and the desire for efficiency, the American automotive industry has experienced an ideological change from power to efficiency, yet the desire for power lingers. Volkswagen has heard the calls and desires of the American people and in 2013 brings you three new vehicles, each of which has a perfectly balanced combination of power, finesse, efficiency and comfort.
Volkswagen's 2013 Models include the 2013 Jetta, Volkswagen's trademark all-purpose Sedan. The Jetta itself starts at $16,720 and boasts 34MPG highway and 24 MPG in the city, making it an ideal vehicle for daily commutes or simply a comfortable drive. The Jetta like its predecessors has a clean, crisp look; yet unlike many of its competitors it also exhibits a sporty, lean look and also features exceptional handling.
While on the subject of Sedans, let's talk about the 2013 Passat; this model starts at $20,845 and gets 32MPG highway and 22MPG city. Regardless, this model exemplifies a luxury Sedan, having received Consumer Digest's "Best Buy" award in 2013 as well as Motor Trend's #1 rank in the midsize Sedan category. If it is a powerful, masterfully crafted midsize Sedan you are looking for, then you have reached your destination.
Lastly, the 2013 Tiguan S is Volkswagen's premier compact SUV. This model starts at $22,995 and features 26MPG highway and 21MPG city. The Tiguan S is renowned for its spaciousness, comfort and safety; yet unlike most SUV's, its compact design allows for easy, utilitarian handling.
If you seek a harmonious balance of fuel efficiency, comfort, handling, maneuverability, power and safety then Volkswagen of Downtown Los Angeles is here to work with you to accomplish your automotive goals. Volkswagen of Downtown LA is well known for it's friendly atmosphere, due in part to the sales presence of Don Dolor and Christopher Tiusiu as well as the supportive Volkswagen customer assistance structure.
Volkswagen of Downtown Los Angeles is located at 1900 S. Figueroa St., CA 90007. For more information on Volkswagen of Los Angeles feel free to call Don Dolor and Christopher Tiusiu at 1-888-428-4501 or 818-458-3360.