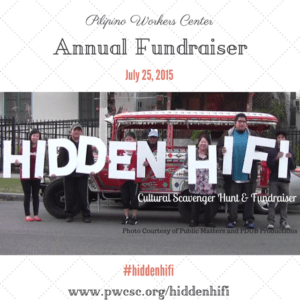 Los Angeles, CA – Volunteers have formed teams to ask for friends, family and the community at large to support them in raising money for a good cause: empowering less visible Filipino heroes to speak out, become leaders and serve their community. On Saturday, July 25, the teams are raising money for the nonprofit Pilipino Workers Center of Southern California at the first ever Hidden Hi Fi (Historic Filipinotown) : Cultural Scavenger Hunt and Challenge.
Hidden Hi-Fi is a 2 hour challenge from 10am – 12pm where teams will have a chance to raise money for the Filipino community while exploring Historic Filipinotown and fulfilling Filipino cultural challenges. Teams will take on the karaoke challenge, will be asked to dance traditional or modern Filipino dances, will be challenged to learn and speak Tagalog and will have the chance to taste an array of Filipino foods. The teams will also race to solve clues that will take them all around Historic Filipinotown. They'll see places they didn't know existed; all while learning about the rich history of the neighborhood and the Filipino American community in general. The participants will also be able to visit different historical sites in the neighborhood as well as get a chance to catch a ride in an authentic Sarao Jeepney from the Philippines. Some of the site stops will include Unidad Park, Filipino American Service Groups, inc., and Tribal Cafe.
Among the teams are: G. Toengi from Kababayan Today on LA18, Asian Americans Advancing Justice – Los Angeles, Asian Pacific American Labor Alliance – Los Angeles Chapter, and many other community members. Last minute teams will be accepted the day of the event for a minimum donation of $50 per team, but registration is required and will be available starting on July 20.
Our sponsors include: The Sandler Foundation, Kababayan Today on LA18, The Office of Councilmember Mitch O'Farrell, Mission Asset Fund, Asian Americans Advancing Justice – Los Angeles, Coalition for Humane Immigrant Rights Los Angeles, Thai Community Development Center, National Domestic Workers Alliance, Little Tokyo Service Center and Farmer's Insurance.
The money raised from Hidden Hi Fi will go to support the nonprofit Pilipino Workers Center. PWC's mission and vision improves the lives and working conditions of thousands of Pilipino and Latino immigrants who work in low-wage jobs in Southern California by making sure they have a voice and can live with dignity and respect. PWC's programs include the Hi-Fi Jeepney Tours, CA Domestic Workers Bill of Rights, Lending Circles/Scholarships for DACA/DAPA Recipients, Emergency Community Food Pantry, Leadership Development, Summer Activist Training, Caring Across Generations, Low Cost Immigration Services, Workforce Development and more.
To register your team or for more information visit the PWC website at: www.pwcsc.org/hiddenhifi or call Emi Vallega (213)250-4353 x106.