MANILA, February 23, 2011 (AFP) – Philippine Vice President Jejomar Binay is to fly to the Middle East Friday to review emergency plans for tens of thousands of Filipino workers trapped in turbulent Arab nations, an aide said Wednesday.
Manila has said it will buy plane tickets for as many of its 30,000 citizens in Libya who wish to flee the oil-rich country.
Binay is to visit Kuwait and Saudi Arabia as well as Abu Dhabi and Dubai in the United Arab Emirates, where he is expected to meet with diplomats and arrange possible passage for Filipinos, his chief aide Joey Salgado said.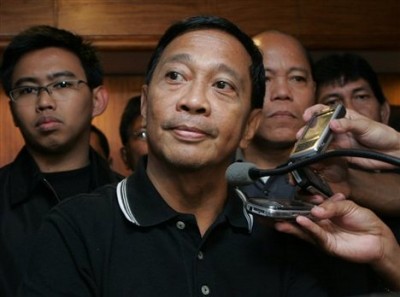 "The instruction of (President Benigno Aquino) is for him to closely monitor the situation in the countries wracked by violence and coordinate whatever measures need to be done to bring those who want to come home," Salgado said.
About nine million Filipinos, roughly a 10th of the population, work abroad as maids, construction workers, seamen and professionals, sending home nearly $19 billion every year.
Many of these workers are in the Middle East, including some 32,000 in Bahrain and Yemen, which have been hit by violent anti-government protests.
Migrante International, a support group for overseas Filipino workers, appealed to Manila to speed up repatriations.
It said Filipinos have been abandoned in workers' camps to fend for themselves as Libya descends into chaos, with strongman Moamer Kadhafi vowing to fight to the death against a popular uprising.
"Other reports stated that there are over 100 Filipinos currently trapped in the city of Kufrah … near the border of Egypt and Sudan," the group said, citing reports from partner organisations in the Middle East.