By Wilnard Bacelonia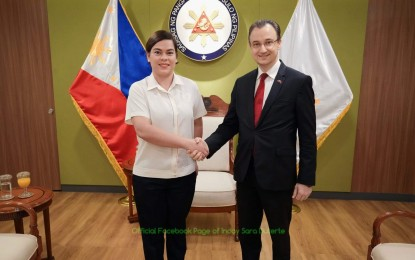 MANILA – Vice President and Education Secretary Sara Z. Duterte said on Tuesday Turkish Ambassador to the Philippines, Niyazi Evren Akyol has vowed to provide scholarships to young Filipinos and support the government's thrust to maintain peace in Mindanao.
During her recent meeting with the Turkish envoy, Duterte said Akyol mentioned the Independent Decommissioning Body (IDB) which is overseeing the disarmament of Moro Islamic Liberation Front (MILF) combatants and maintaining the integrity of the peace process.
"Turkiye promised to provide scholarship privileges for the Filipino youth to help boost their knowledge and skills. Apart from this, they also vowed to continue the coordination and support in our vision to achieve genuine peace in Mindanao," Duterte said in Filipino in her social media post.
"Through IDB, an organization which aims on overcoming conflict, let us go hand-in-hand towards absolute unity," she added.
The IDB is composed of international experts from Turkiye, Norway, Brunei Darussalam, Japan and local experts from the Philippine government.
Duterte said she also expressed her sympathies to Akyol on the recent terrorist attack in Ankara.
"Turkiye thanked our countrymen who whole-heartedly prayed, especially for the families affected by the violence. This unity is proof of the concern and friendship of the two countries that will not be hindered by challenges and trials," she said.
Through the years, Turkiye has been providing scholarships for young Filipinos, especially in the Bangsamoro Autonomous Region in Muslim Mindanao.
In response to its invaluable support for Filipinos, the Philippine government has sent teams in Turkiye early this year to help in the rescue operations following the magnitude 7.8 earthquake that hit the country. (PNA)