By Ruth Abbey Gita-Carlos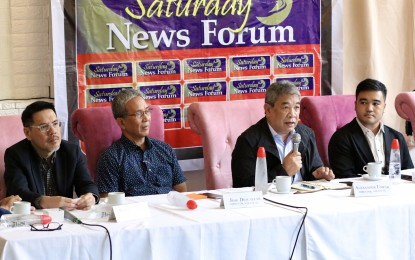 MANILA — The inability of "weakened" guerilla fronts to wage wars is a "strategic victory" for peace efforts, the National Task Force to End Local Communist Armed Conflict (NTF-ELCAC) said on Saturday.
During the Saturday News Forum in Quezon City, NTF-ELCAC director Alexander Umpar noted that the government has dismantled 69 of 89 guerilla fronts since the creation of the task force in 2018.
Umpar said only one of the 20 remaining guerilla fronts is active while 19 others are already weakened.
"'Pag sinabi nating strategic victory, ito na 'yung 19 weakened guerilla fronts at isa na lang 'yung kinu-kompronta ng AFP (When we say strategic victory, this is the 19 weakened guerilla fronts and only one is left to be confronted by the Armed Forces of the Philippines)," he said.
"May mga concerns pa rin sa armed [groups] pero hindi na sila nakakapag-initiate ng armadong pakikibaka (There are still concerns about the armed groups but they are no longer able to initiate an armed struggle) or to [topple] down our government. So, 'yun 'yung (that's the) strategic victory," Umpar said.
NTF-ELCAC director Jose Descallar likewise expressed optimism that the government would be able to sustain its peace-building efforts to encourage more rebels to reintegrate into mainstream society.
He urged rebels to give up and join the government in its goal of transforming the country into a "new Philippines."
Director Emmanuel Santos Office of the Presidential Adviser on Peace, Reconciliation and Unity said the conduct of localized peace engagements has been proven to be the "most effective" approach in addressing communist insurgency.
"Kaya po natin nilo-localize na 'yung pakikipag-usap, para po mas malapit na sa tao 'yung maparamdam po na nandito po 'yung gobyerno talaga (We're localizing the engagement so we will be closer to the people to make them feel that the government is really here)," Santos said, adding that there should be "clear directions" to ensure the full reintegration of former rebels (FRs) into mainstream society.

Umpar noted that in 2023, a total of 959 villages cleared of insurgency threats were included in the Barangay Development Program (BDP), an initiative that aims to bring sustainable development programs to conflict-prone and conflict-affected communities.
Under the BDP, each village recipient will receive a package of programs, activities, and projects (PAPs) worth a maximum total of PHP20 million.
BDP beneficiaries in 2021 and 2022 were pegged at 822 and 1,406, respectively, he said.
Umpar said the NTF-ELCAC is bullish that by 2028, it would attain its goal of achieving lasting peace and development in areas that are vulnerable to armed conflicts.
"'By 2028 naman, ito 'yung sustaining na 'yung momentum ng gains ng NTF-ELCAC (By 2028, it is about sustaining the momentum of NTF-ELCAC gains) with regards to the dismantling of these guerilla fronts, the reintegration of our FRs, and most of all, building resiliency for our communities under the ambit of good governance towards the unity, peace and development," he said.
Descallar said the military could shift its focus on "external threats," once the government is able to address local insurgency.
During the declaration of Palawan Island as "insurgency-free" in a ceremony in Puerta Princesa City on Friday, Marcos said the country is making a significant stride in attaining peace and order in the country.
Marcos attributed the successful implementation of the peace initiatives and anti-insurgency efforts to the government's "whole-of-nation" approach. (PNA)