American Heart Association calls on Americans to adopt healthy eating habits to reduce heart disease, stroke risk
The American Heart Association is calling on all companies and individuals to participate in National Start! Eating Healthy Day on Wednesday, Nov. 3, 2010. The annual event is aimed at raising awareness of the importance of good nutrition and making the best eating decisions to reduce a person's risk of cardiovascular disease and stroke.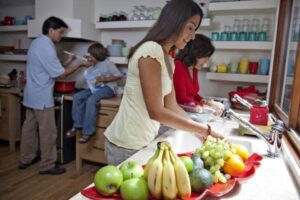 Heart disease and stroke are the No. 1 and No. 3 killers of Americans, but they are also largely preventable diseases. Consuming the right amounts of the proper foods may be the single most important thing you can do to lower your risk of heart disease.
A recent American Heart Association study shows that 70 percent of American adults report being told by a health care professional to make a lifestyle change. National Start! Eating Healthy Day is a perfect opportunity to start making small changes, such as incorporating healthier food choices, toward a healthier life.
The American Heart Association urges companies to participate in National Start! Eating Healthier Day by:
• Serving only healthy foods in the cafeteria
• Turning off the vending machines for the day or filling them with healthy alternatives
• Passing out green apples to all the employees with some healthy eating tips
• Organizing a farmer's market in the office during the lunch hour
• Replace donuts with fruit and low-fat muffins at a breakfast meeting
Individuals can participate in National Start! Eating Healthy Day by:
• Bringing your lunch to work so you can control what you eat and save money in the process
• Discover a new, healthy recipe and prepare it for your family or friends
• Have a healthy pitch-in lunch at work
• Make a stop at the grocery store on your way home so you can stock up on healthy snacks and food items
The American Heart Association offers this healthy diet guide:
• Fruits and vegetables: At least 4.5 cups a day
• Fish (preferably oily fish): At least two 3.5-ounce servings a week
• Fiber-rich whole grains: At least three 1-ounce-equivalent servings a day
• Sodium: Less than 1,500 mg a day
• Sugar-sweetened beverages: No more than 450 calories (36 ounces) a week
• Nuts, legumes and seeds: At least 4 servings a week
• Processed meats: No more than 2 servings a week
• Saturated fat: Less than 7% of total energy intake
For more information about Start! Eating Healthy, visit www.startwalkingnow.org/starteatinghealthyday.