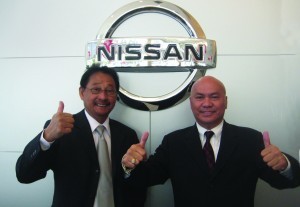 New Filipino Sales Director Nash Jimenez (right) with fellow Filipino Danny Laxama now both with West Covina Nissan.
NASH JIMENEZ answers the moniker 'Mr. Big Time Savings' because of his exceptional skill in giving carbuyers the best deals. So that when he assumed the post lately as Fleet Manager of the West Covina Nissan, the management and staff of the company got excited and accorded Nash a grand welcome. They see in Nash, a multi-awarded car salesman, finance manager, and fleet manager, as the missing link that could fortify the dealership operations.
"I have come full circle. Twenty-five years ago, I embarked a career as a car sales person in Manila, and here I am, a jaded worker in the industry coming to another Nissan dealership," Nash said. "Finally, I found a new home. I can tell you, my creative juices are flowing again."
Nash likes the Nissan mystique because it was a Nissan company that gave him a good life in the Philippines. His stint at the Metro Motors Nissan was very fruitful, He was selling an average 200 cars and earning over 500,000 pesos a year. That was the early 80s when the top executives in Manila was earning less than half a million pesos annually.
As a testament to his successful stint, Nash was feted with honors as Top Sales Person of the Year, and subsequently, Fleet Manager of the Year. The company even sent him to Japan to have a first-hand look at the cutting edge technology that creates the product that he sells.
"Love affair" with cars
Nash's "love affair" with cars took form when he was a sprightly bright-eyed young man working his way to a college education at the University of Santo Tomas and later, at the Philippine Christian University in Manila. He dreamt of becoming an engineer. Little did he know that his attraction to engineering was fueled by a deeper drive which later showed up as "great love for cars and motorcycles."
After graduation, Nash joined the First Nationwide City Bank as credit analyst for auto loans. Soon he found himself working – where else – but at a car dealership that sells Nissan cars. That goes without saying that his first car was a Nissan; an SGX sedan.
"It was one of the happiest days of my young life. I instantly had a clear idea what cool things the car could do to me," said Nash. "The car gave me a greater sense of freedom. Just driving to beautiful places with my girl gave me the exhilarating feeling of unspeakable joy."
"That was the pinnacle of my fledging career in car sales," said Nash. "It was too good to be true. But then the early career success was less meaningful for me because I was then in my early twenties and I was a carefree young man who had nary a care about life and living."
California dreamin'
The lure of the American Dream put his flourishing career on hold. Now, a newly-married man, Nash followed his family to California in early 90's and started to work in different car dealerships in the Los Angeles area.
At the Toyota of San Bernardino where Nash worked from 1996-2004, he proved to all and sundry that he is a cut above the rest. He was accorded top honors as "Salesperson of the Year." And at Penske Auto Group, where he worked from 2004-2008, Nash was recognized for his splendid job with a "Fleet Manager of the Year" Award.
For over twenty years, Nash had been doing was he does best – help Filipino Americans own cars. He gains utmost satisfaction seeing his kababayans drive off a new car from the car dealership lot.
"It's a nice feeling knowing that you are a part of that deal that made the customer very happy," he said. "Passion ko talaga ang magbenta ng kotse. Napakasarap ng pakiramdam kapag nakatutulong tayo sa customers. (Selling cars is my passion. I feel good if I can help my customers buy a new car)."
A déjà vu all over again
And then, a sort of déjà vu happened; Nash found himself the new Fleet Manager of the West Covina Nissan. For reasons he does not fully understand, he felt exceptionally excited about the new job. Then, he realized that it was also a Nissan dealership in the Philippines that gave him a very successful career as a young man.
"It is déjà vu all over again," said Nash, quoting Yogi Berra's famous sports witticism. "I realize I have come full circle (in my career) and I found it a little bit mysterious."
Will he be able to rekindle his passion and re-establish himself as one of the household names in the Car Sales and Leasing industry?
Nash said all the indicators are there. He said the Nissan dealership is located in West Covina, a place where there is a large concentration of Fil-Am households – estimated at over 30,000. Another thing, Nash said, is that Nissan cars have a high acceptance value to Filipino-Americans.
A household name
On the question why do carbuyers go to West Covina Nissan for their new cars instead of going to other car lots?
"Quite simple, I am here," he said in jest. "Great people, great deal, great service; I guess that sums up what this dealership stands for."
But what Nash was trying to say is that his name, being a household name among Pinoy carbuyers, carries a lot of weight. He had been around for the past 20 years and his clients always seek him when their children became adults and need a car.
"My customers come back to me each time their families need a new car. It is like I am family to them, and I feel good about their loyalty because I do care so much about my customers," he said. ■