By Jean Malanum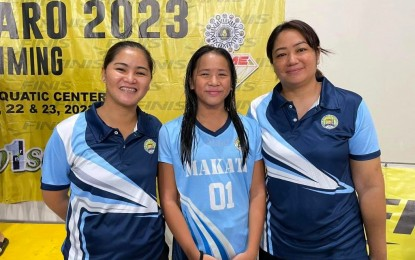 MANILA – Western Visayas and National Capital Region (NCR) bagged four gold medals each in swimming on Thursday to keep their top spots in the medal tally of the 2023 Palarong Pambansa at the Marikina Sports Center.
Jennuel Booh De Leon won the secondary boys' 50m backstroke and freestyle for Region 6, which also ruled the elementary girls' 100m freestyle courtesy of Anika Kathr Matiling and the elementary girls' 400m medley relay won by Savannah Secuelan, Chelsea Marie Billanes, Coraline Montalbo and Matiling.
NCR, on the other hand, dominated secondary 200m butterfly (Mishka Sy), secondary girls' 400m medley relay (Clara Yzabelle Delos Santos, Sinagtala Cuevas, Iliazel Fel Dollente and Sy), elementary 50m backstroke (Claine Briana Lim) and secondary boys' 400m medley relay (Ivo Nikolai Enot, Jalil Sephraim Taguinod, Ivan Nicolas Radovan and Hugh Antonio Parto).
Region 11 snatched two gold medals, all won by Paolo Miguel Labanon in the secondary boys' 200m butterfly and 1500m freestyle events.
Other gold medalists were Jie Angela Mikaela Talosig of Region 12 (secondary girls' 1500m freestyle); Quendy Fernandez of Region 4B (secondary girls' 50m backstroke); Reichard Neilson Navo of Region 4A (elementary boys' 50m backstroke); Kacie Gabrielle Tionko of Region 7 (secondary girls' 100m freestyle); and Jericho Tobias Barany, Matteo Galagam, Vynz Tadulan and Gabriel Pablo Carlos of Region 1 (elementary boys' 400m medley relay).
As of 8:30 p.m., Region 6 has amassed 33 gold, 23 silver and 18 gold medals to keep the top spot in the tournament organized by the Department of Education.
At second is NCR, which has 24 golds, including three from Krystal Ava David, 27 silvers and 23 bronzes. David, registered a new Palaro record with her 1:17.98 performance in the 100m breaststroke last Tuesday, erasing the 1:19.35 mark set by NCR's Raissa Gavino in 2018.
David, coached by Doll Disini-De Guzman of Colegio San Agustin Makati and Golden Sea Eagles Swim Team, had another stunning victory in the 50m breaststroke on Wednesday, clocking 36.51 seconds to eclipse Gavino's 36.63s record. She also won the 200m individual medley (2:37.32).
Region 4A is at No. 3 with 22 golds, 30 silvers and 23 followed by Region 11 (13-2-9), Region 10 (11-8-14), Region 3 (11-13-20), Region 12 (9-11-12), CAR (9-9-4), Region 7 (9-7-14), Region 1 (6-8-8), Region 4B (4-3-9), Region 2 (2-5-8), Region 8 (2-5-6), Region 9 (1-3-0), CARAGA (0-1-3) and BARM (0-0-1). (PNA)