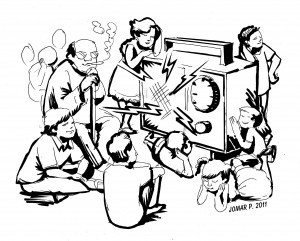 BY NENET GALANG-PEREÑA
WHEN I was growing up in the neck of the woods named after the Kalumpit, a stately tree that grew in the patio of one of the oldest parish churches in Bulacan, the radio was king. From early morning, my kuya, ate and I would awaken to Itik-itik (Bar Samson, son of our first grade teacher, Mrs. Apiang Samson) greeting us, especially when it was our comple año). In the afternoon, we would come home from school to a quiet  house, as our mother would still be teaching in another barrio and our father would still be working at the Disbursing office of the Union Chemicals in Barrio Ugong, Pasig, until at exactly 3:00 PM,  our grandma would turn on the radio to Dely Magpayo's  Ito'ng Inyong Tia Dely over DZRH. We know it's time to put the rice pot to a boil when Johnny de Leon went on the air with his Lundagin mo Baby. We never balked at his chauvinist spiel, "Mga misis, maligo na, malapit nang dumating si mister" during those days when most men would bring home the bacon to their patiently waiting homemaker wives.
When it was not a school night, we would cower in fear, listening to Gabi ng Lagim, imagining the kapre that was said to dwell in the big mango tree down the road. Village lore had it that the woman who came home in the wee hours of the night after a game of panggingge was accosted by this kapre and she ran home with her skirt over her head in mortal fear. This was way back when women only wore underwear for special occasions, so one can just imagine how the barrio minds pictured the hapless woman.
My youngest sister (born 11 years after me) had a yaya who was a big fan of Nora Aunor, and every night, we endured the lachrymose songs she swooned to, while folding my sister's diapers. In high school, I tuned in to the all-afternoon Beatles program every Sunday, thus memorizing all the quartet's songs and winning in the Jingle Magazine's crossword puzzle on all the titles of their 60's hits.
All of my siblings would take a siesta right after Operetang Putol-Putol where my favorite love team, Perla Adea and Romy Mallari sang their maudlin duets. Recently, I mentioned this to Esperanza Fabon, when I organized a tribute for the UST Faculty of Arts and Letters alumni where we included her for the GANTIMPALA awards for Justice (having been newly appointed as justice of the Court of Tax Appeals), and she gave a hearty laugh. Her batchmates, Judge Che Manalastas-de Leon and ABS-CBN VP Bong Osorio remembered how her show biz steady, Eddie Peregrina, would drop her off the St. Raymund's building in her miniskirt navy blue uniform and three-inch clogs.
Then came television, cable, and in their heels, broadband. Whether it's the hottest running musical series like "Glee" or the longest running sit coms like "Friends" (which is still raking millions from syndication though now in the never land of reruns), everything is right there in the tube, fed by the digibox or the external DVD drives. The summer we went into Ellen de Generes' set at Warner Brothers' studio in Burbank, we walked about the sound stage wondering about the phantasmagoria that is talk television. Our guide pointed to the midrow which was widely spaced so Ellen could dance and horse around with her audience, while the rest of the planet watched,  and I grasped the immensity of the medium.
The controversial biographer, Kitty Kelly, quotes Ophra Winfrey saying: "But if you really want to change people's lives, have an hour platform everyday to go into their homes." The big "O" knows what she speaks of, having risen from a small radio station in Tennessee  to create the intimate confessional form of media communication– the tabloid talk show genre– pioneered by Phil Donahue, which a Yale study claims broke 20th century taboos.
But radio refuses to yield every inch of its territory and relinquish its crown as king of the air waves. Some programs have crossed over the divide between radio and tv, in the highbred genre called Teleradyo.  Two worthy shows that brighten the weekend afternoons of the Philippines are DZMM's "Music and Memories" and DZIQ's "Ka2waan sa Radyo."
The first is a nostalgic program from 2-4 PM, that tries to recapture the good old 50's, 60's and 70's. Its hosts, the affable actress and communication arts professor Boots Anson Roa and the inimitable comic, mimic and singer Willie Nepomuceno bring back the songs of Nat King Cole, Perry Como, Connie Francis, Frank Sinatra, Neil Sedaka, the Beatles, the Bee-gees, and other singers of rhythm and blues, rock and roll, and other classic country beats. "Music and Memories" is celebrating its fourth year anniversary with some special guests lined up this month, according to Boots and Willie.
Their loyal followers, among them Entertainment editor, Ricky F. Lo, are always tuned in, to fill the senior moments gap. Ricky counts on his other friends like Chanda Romero, Richard Merck, Bong Osorio, Jose Mari Chan, Pete Lacaba and wife Marra Pl. Lanot to lend Willie and Boots a hand when facts need checking.
Columnist Billy Esposo lauds the duo's wide range of topics, including dissertations of popular culture. He recalls:  At one time, favorite expressions like "Ermat (slang for mother)" or "Erpat (father)" were on the discussion pipeline. There were lively discussions on favorite old Manila downtown movie theatres (like the Ideal, Avenue, State, Ever), panciterias (like To Ho Antigua, San Jacinto, Smart, Moonlit Terrace), favorite snack outlets (like the old Fairmont across the Universal theatre along Rizal Avenue which served a heavenly mocha ice cream), and so forth. Recalling old landmarks is a favorite discussion piece on "Music and Memories."
The second subscribes to an anything goes format from 1-5 PM. It aims to analyze current events, social phenomena and controversial issues on one hand and play Original Pilipino Music (OPM), give practical tips and jokes to the public on the other. A triumvirate of homespun philosophy vanguards Jojo Alejar (of midnight talk show "Medyo Late Night Show with Jojo A"),  Herman "Isko" Salvador (of Brod and Prof Pete prime time gag shows) and Teddy Perena (PR and Advertising) live true to the station's claim: Nasa gitna ng Lahat (alluding to the bandwidth 990, which is in the  meridian of the tuning dial). Literally and figuratively, they are in the midst of everything, trying to help the Pinoy, tired of the week-long haul in the salt mines, to make heads and tails of what is transpiring around him.
Focusing on the chronic flooding of Makati, as the station is in Pasong Tirad St., the unholy alliance called on Mayor Binay, with Brod Pete ruing the inundation: "Hanggang tuhod ni Dagul" na, Sir Jun-jun!"—a timely poke for public service in a humorous vein. The following week, the trio was pulling the leg of the mayor, thanking him for the no flooding scenario because of course, there were no rains that day.
With the King of Philippine comedy on phone patch, they reminisced on the golden age of Philippine entertainment, from Clover Theater's vodavil  to ABS-CBN's Buhay Artista.They were even able to cajole Pidol to tell the tale of how he discovered Ronaldo Valdez. (He spotted the father of Janno Gibbs in a basketball court, then presented him to Susan Roces, para kilatisin,  but was rejected. He then brought Valdez to a grooming salon and lent him his suit before bringing him back to Swannie (Roces' pet name), who exclaimed: "This guy is a lot better than the other."
"Listeners get to comment on a question of the week (usually the burning issue of the time) and answer a tricky one from Brod Pete, with winners getting prizes from Burlington BioFresh and Accel," announces former bagets star, Jojo Alejar.
In another episode, they had Norman Black as guest. In the course of the interview, Coach Black was speaking about his player, Kirk Long when Brod Pete cut in to verify if the cager was related to actor-comedian Long Mejia, making the Ateneo cage mentor laugh with gusto.
But while some times they can be wackily supercilious, the three can be cerebrally super serious too, like when they had Ramon Lopez of Go Negosyo, PBA Chairman Rene Pardo and the soon to be proclaimed Senator Koko Pimentel on board. A lot of text and e-mail messages are sent to them, which they sift through diligently for due acknowledgement and responding. After a long hiatus caused by a personal tragedy, former Senator Rene Augusto V. Saguisag went on air for Ka2waan, in his old fighting form, to say his statesman's piece on the Marcos burial.
"We are celebrating our one month anniversary (mansary) this month, with great optimism for more fun and longer fora with our listeners," adds comedian Isko Salvador.
With programs like "Music and Magic" and "Ka2waan" bringing back the glory days of radio, the air waves king, setting foot on cyberspace with video streaming on www.dziq.am remains on its throne of grace at least for the weekend realm. (Prof. Nenet Galang-Pereña finished her Bacherlor of Arts degree, major in Journalism at the Faculty of Arts and Letters, University of Sto. Tomas in 1978, magna cum laude.  She also pursued a Masters in Special Education from the Philippine Normal University and completed her Masters in Literature from the University of Sto. Tomas Graduate School. At present, she is finishing her course work for her Doctor of Education degree in Curriculum Development and Instruction, also at the UST Graduate School.  She teaches Literature and Journalism at the premiere liberal arts institution of the University of Sto. Tomas– the Faculty of Arts and Letters, founded in 1964 by its forebear, the Faculty of Philosophy and Letters, founded in 1896. She writes feature articles regularly for two Manila publications.)