By David Casuco
Balita Media News Service
LOS ANGELES – Next to the Pacman, Nonito Donaire Jr. is the next best thing in Philippine boxing right now. Boxing pundits, though, are still ambivalent as to whether or not Ring Magazine's No. 5 pound-for-pound boxer in the world really deserves the mantle of superstardom that he has attained with Top Rank.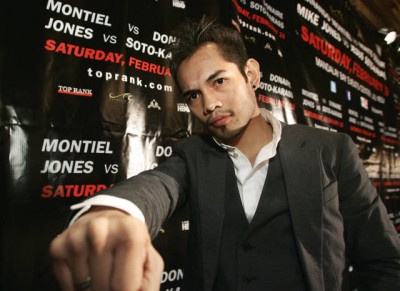 For those who were not looking, Donaire (pronounced do-nigh-reh) had two big victories that catapulted him to the big leagues. He pulled off a big upset win over erstwhile undefeated Aussie/Armenian champion Vic Darchinyan in July 2007, winning the IBF and IBO Flyweight world titles. His stoppage of Darchinyan went to the record books as "Knockout of the Year."
Then on December 4, 2010, Donaire shocked the boxing world with another huge victory over Wladimiro Dydorenko at the Honda Center, Anaheim, California. Donaire kayoed the Ukrainian in the fourth of the scheduled 10-round title fight for the WBC Continental Americas bantamweight belt.
In between Darchinyan and Dydorenko, Donaire defeated all but one of his six opponents in abbreviated bouts. Only Rafael Concepcion of  Panama lasted the distance, but still lost to the Filipino Flash in a unanimous decision. With that victory, Donaire also won the vacant WBA Super flyweight Interim world title.
The  Darchinyan and Dydorenko were statement victories that were quite impressive by any measure. That made the 28-year-old Donaire a certified headliner, and subsequently, earned for him a tiff with Fernando Montiel (44-2-2, 33KOs) in the mainer of the Top Rank boxing card at the Mandalay Bay Events Center on Feb. 19.
The problem with Donaire (25-1-17KOs) is that he has to become very successful inside the ring to come out from the shadow of the Pacman, who is right now the virtual face of boxing. Also a GenSan boy, Donaire cannot escape being compared to the great Pacquiao. And although he did not experience the marginalized life that Pacquiao went through, Donaire is also very tough in his own way. He joined his Dad in Los Angeles, and later in San Leandro in the Bay Area at age 10 and went on to train as an amateur boxer with the perks reserved for American athletes.
But in matters of inspiration, Pacquiao definitely gives him a boost. "He is definitely and inspiration in my career… how I want to be. He wants me to keep moving my feet to see how far can I go," said Donaire.
Against the 31-year-old Montiel, the Filipino Flash will try to wrest the WBC and WBO belts. But the question a lot of boxing fans are asking, "Is this going to be another cakewalk for the Filipino Flash?  Will the more experienced, heavy-hitting Mexican be an easy prey for the fleet-footed Donaire?"
During a Top Rank conference call, Donaire expressed his thoughts , saying "this fight is going to be an incredible fight. I have great people around me and I have trained very hard for this fight and I am ready."
Was he comfortable adjusting to the 118-lb catchweight?  "We (my team) focused on strategic moves and not having to worry about the weight too much. I feel strong. I look bigger and the speed is still there," he said. "I am naturally strong and fast… I know I am 200% ready for the fight."
Donaire admits that Montiel has more experience, and therefore has an advantage over him. "He knows the ring well. His advantage is height and speed. I think I am more of a strategist than Montiel is," he said.
Montiel, for his part, is not intimidated one bit by whatever Donaire may bring inside the ring. He said he is just as good as the Filipino rising star.  "He is obviously a fighter that has a lot of speed. He moves around the ring and is an intelligent fighter. The question, " What if he fights someone that is just as good as he is?"
The answer to that will be known on the evening of Saturday, February 9.