Today, rumors are swirling that Arlene Wagner, who opened the Leavenworth Nutcracker Museum in the state of Washington 15 years ago with her husband, George, will be Conan O'Brien's first guest when his late-night show "Conan" debuts on TBS Monday.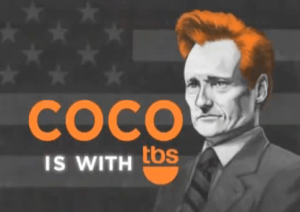 A rep for the show has yet to confirm the booking to EW, but here's what we do know: On Friday, O'Brien announced via video that voting in the poll to name his first guest was now closed, and he had decided to eliminate all but three of fans' picks, including Justin Bieber and Lady Gaga, for various reasons.
It's down to Jack Nicholson, the Sultan of Brunei, and Wagner, Conan said – adding that he would be tallying and manipulating the results. After sidekick Andy Richter gave an interview contemplating having the elusive Nicholson sitting between him and Conan, a rep for Conan called the writer back to say Richter was "just joking".
So yes, we'd believe it if Wagner earned the coveted spot. Both Conan and Andy have said all they want to do on their new show is have fun, and what's more fun than talking to a woman who's traveled the world to collect more than 6,000 nutcrackers and will bring props?
According to the museum's website, Wagner is a former ballet teacher who produced the Nutcracker Ballet for many years, and "just as Clara in the ballet became entranced with the wooden figure with the big teeth, so did Arlene." Who better to talk to about having their balls busted during the "Tonight Show" debacle? (And again, props!)
Are you now hoping Arlene is Conan's first guest, or are you still holding out hope for Nicholson? Wouldn't it be great if Conan had all three of them walk out so he could announce the winner, and then sent Nicholson and the Sultan packing without them saying a word? Maybe that's a little too much to ask for on basic cable… we'll see.