By Ferdinand Patinio and Christopher Lloyd Caliwan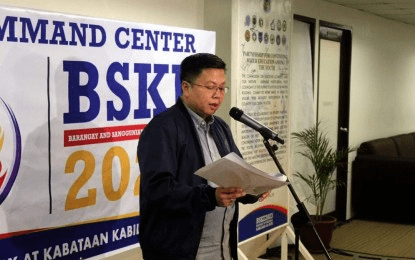 MANILA – Winning candidates in the Barangay and Sangguniang Kabataan Elections (BSKE) need not only have the highest number of votes but have to meet several requirements to be able to assume office, the Commission on Elections (Comelec) said on Monday.
"For all winners, there are three requirements before being seated. First proclamation to be carried out by the Comelec, then Oath of Office and third, assumption to office. After that, one can assume his/her position," Comelec spokesperson John Rex Laudiangco said in a press briefing.
Meanwhile, Laudiangco reiterated that the proclamation of winning candidates who have pending disqualification cases will be deferred.
"If they get the most votes, the proclamation will be suspended until the Comelec issues an order. This is to ensure that their cases will not be ignored in the event that they are proclaimed even if they are disqualified. This is not a disadvantage but just a process of the law that allows the case to be resolved. If the case is dismissed, the order is lifted. If the case becomes final, he/she will be disqualified even if he/she got the most votes," hel added.
Based on Comelec data, there are 220 cases filed for illegal campaigning and premature campaigning.
As for vote buying, there are 27 cases that have been filed.
"Disqualification cases can be filed up to before a candidate is proclaimed. But for an election offense case, the Comelec has five years to file a criminal case in the Regional Trial Court," Laudiangco said.
There are a total of 672,016 village and youth positions up for grabs in Monday's polls — 42,007 each for village chair and youth chair and 294,007 each for village council members and youth council members.
The same data showed there are 67.8 million registered voters for the village polls while registered youth voters are at 23.2 million.
The voting is from 7 a.m. to 3 p.m.
Submit campaign expense report ASAP
The Department of the Interior and Local Government (DILG), meanwhile, reminded winning candidates to immediately submit their Statements of Contributions and Expenditures (SOCE) to ensure a seamless assumption of office.
"I-submit niyo ang Statement of Contributions and Expenditures sa Comelec. Importante 'yan. At huwag n'yo nang hintayin ang 30-day deadline (Submit your SOCE to Comelec. That's important. Don't wait for the 30-day deadline," DILG Secretary Benjamin Abalos Jr. said in a statement.
Republic Act (RA) 7166, or the Synchronized National and Local Elections and Electoral Reforms Act, states that no elected officials may sit without filing their respective SOCE.
The SOCE is a comprehensive report about the campaign contributions and expenditures of the political candidates.
Candidates should file their SOCE at the Office of the Election Officer concerned on or before Nov. 29, or not later than one month after the day of the election.
Meanwhile, the DILG said it is no longer requiring winning candidates to submit to the agency a certification as proof of submission of SOCE to the Comelec before they could assume office.
"Considering that candidates are already required to file the SOCE with Comelec under Section 14 of RA 7166, the additional requirement of the submission to DILG of the Comelec Certification of SOCE filing may be deemed as duplicative," the agency said in Memorandum Circular 2023-165 released Monday.
Abalos likewise reminded winning candidates to ensure that the inventory report of the barangays' assets and properties is accurate.
"It should be accepted. At i-check n'yo rin nang maigi kung ilang computer ang iniwan, ilang sasakyan. Napakaimportante nito kasi mamaya may nawawala, sa inyo pa maibintang (You should also check how many computers or vehicles are left. This is very important because you could be held liable for lost items)," Abalos said. (PNA)