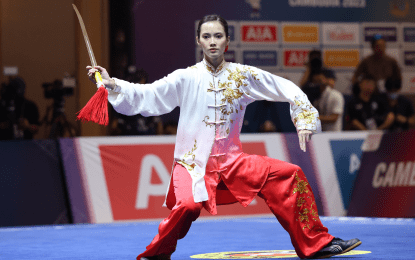 PHNOM PENH – As expected, Agatha Wong clinched a wushu gold for the Philippines in the 32nd Southeast Asian Games after a pair of dazzling performances in the women's combined taijiquan and taijijian events Friday at the Chroy Changvar Convention Center here.
Wong totaled 19.263 points after posting 9.580 in taijiquan and 9.683 in taijijian to capture her fifth SEA Games gold overall.
Wong bagged back-to-back taijiquan titles in 2017 and 2019 and claimed two consecutive taijijian crowns in 2019 and 2021.
Cambodian organizers merged the two events into one and Wong still emerged triumphant despite the low expectations she set for herself.
"I didn't expect to win because I'm also a med student. I'm in my first year of medicine," said Wong, who returned to school after graduating with a Diplomatic Affairs degree from the College of St. Benilde in 2018.
"It's not easy for me to balance my training and studies," she added.
"Pag gusto mo, may paraan. Mahirap siya pero kakayanin kasi (Where there's a will, there's a way. It's difficult but I can do it because) I really like this sport," Wong said.
Wushu also delivered bronze medals in taolu thanks to Sandrex Gainsan (men's jianshu + qiangshu) and in sanda behind Carlos Baylon (men's 56kg), Russel Diaz (men's 52kg), and Jenifer Kilapio (women's 48kg).
9 Pinoy boxers out to get gold

Meanwhile, nine Filipino boxers brace for tough battles as they go for gold medals against tough opponents on Saturday and Sunday, hoping to give the country's faltering campaign a much-needed boost.
Four of them, led by two-time SEA Games champion Rogen Ladon and Tokyo Olympian Irish Magno, climb the ring Saturday at the Chroy Changvar Center Hall G, hoping to score a sweep before their five other compatriots take the stage Sunday.
Ladon, who won gold medals in the 2019 Philippine and 2022 Vietnam Games, starts the country's bid for a golden rush at 4 p.m. when he fights Tharanat Saengphet of Thailand in the men's flyweight championship.
Magno is up against a familiar foe – Jutamas Jitpong of Thailand – in the women's lightweight finals, having prevailed when they clashed for the gold in the 2019 games back home. But the Thai beat her during the round-of-16 in the 2021 Tokyo Olympics.
Also fighting Saturday are Ian Clark Bautista, who is also hoping to become a three-time SEA Games medalist, and Riza Pasuit, who battles Vietnamese Thi Linh Ha in the women's lightweight finals.
"I really have to give my all tomorrow (Saturday) to bring home the gold," said Bautista, 28, of Binalbagan, Negros Occidental, who is up against Indonesian Asri Udin in the men's featherweight gold medal round.
Bautista has gone on a strict diet to keep himself in top shape and jokingly said: "Even water tastes very good to me (now)."
With nine finalists, the boxing team looks very capable of surpassing the country's three-gold, one-silver and five-bronze medal finish last year in Vietnam.
Association of Boxing Alliances in the Philippines (ABAP) secretary-general Marcus Jarwin Manalo expressed high hopes the nine would perform well but said scoring a sweep would definitely be a difficult task.
"Obviously, it will be a tougher competition in the finals. We just hope we can execute the fight plan and finish strong," Manalo said. "We can hope, but sweeping the final matches is not realistic, considering the level of competition." Fighting Sunday are Tokyo Olympics silver medalist Carlo Paalam, fellow Tokyo Olympics silver medalist Nesthy Petecio, Paul Julyfer Bascon, Fil-British John Marvin, and Petecio's younger brother, Norlan.
Paalam eyes the gold in the bantamweight class against Aldoms Siguru of Indonesia, with the Pinoy pug out to become a two-division gold medalist in the SEA Games, having won the flyweight gold in 2019.
Nesthy, 31, shoots for redemption after a frustrating bronze finish in the last Hanoi games when she squares off with Indonesian Ratna Sari Devi in the women's featherweight finale.
Bascon takes on Rujakran Juntrong of Thailand in the men's light welterweight finals while Norlan, 21, takes on another Thai, Bunjong Sinsiri, in the men's lightweight championship.
Marvin, the 2017 SEA Games gold medalist, faces Weerapon Jongjoho of Thailand in the men's light heavyweight finals.
Of the 12 Pinoy boxers here, only light flyweight Mark Lester Durens and welterweight James Palicte will not return home with a medal.
Markus Cezar Tongco, who lost to Manh Cuong Nguyen of Vietnam in the men's heavyweight semifinals, bagged a bronze medal. (PNA)