By Lily O. Ramos
MANILA, Feb. 14 (PNA) – World champion Filipino players like Dennis Orcollo, Ronato Alcano and Lee Vann Corteza are being lured away from the sport to coach young, aspiring players in the Middle East, particularly Qatar and the United Arab Emirates.
The trio admitted having been dangled with a 4,000 U.S. dollars monthly salary, free board and lodging and individual service cars to boot if only they would agree to a coaching job in the oil-rich countries, according to Bugsy Promotions owner Ceferino "Perry" Mariano.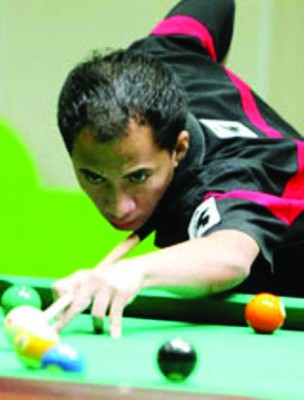 "The Billiards and Snooker Congress of the Philippines (BSCP)says they have plenty of players. But so far, we have many topnotch pool players who have migrated to other countries or left to work abroad because of their meager earnings here," said Mariano who has managed most, if not all the best crop of current billiard players around.
"It's high time that the BSCP look at the current situation because most of our champions are ageing. Their welfare should be taken care of after giving so much honor to the Philippines," he added.
The sportsman/promoter/manager said that most billiard players cannot get a well-paying job here, mainly because they do not have university degrees or are not prepared for technical positions and blue-collar jobs that need special training.
The Philippine Olympic Committe (POC) headed by its president Jose "Peping" Cojuangco recognized the leadership of the group headed by Arturo "Bong" Bong Ilagan.
"I hope Mr. Ilagan and his group make their move before we run out of top-caliber players. It will be sad to see them doing exodus just because the opportunity to have a decent work in the country is nowhere to be found," said Mariano.
Mariano, together with Aurelio "Reli" de Leon are the founders of the National Collegiate Billiards League (NCBL) or B-League which is trying to discover fresh, young talents in the sport.
Meanwhile, bouyed by his success in the recent Derby City Classic in the United States, Orcollo will vie in the 2011 World 8-Ball Championship from February 19 to 26 in Fujairah, United Arab Emirates (UAE).
"I hope that I will win in the World 8-ball and come home with the crown," said Orcollo who finished runner-up to countryman Ronato Alcano in the 2008 World 8-Ball edition.
The former fisherman from Bislig, Surigao del Sur captured the World Pool Masters crown on May 12-16, 2010 at the Riviera Hotel and Casino in Las Vegas, Nevada, USA by beating Japanese Toru Kuribayashi in the finals for the top prize of US$ 20,000.
"The success of Dennis will serve as inspiration to other Filipino players to do their best and strive harder in the coming International Billiards Competition," said sportsman/businessman Ceferino "Perry" Mariano, president of the star-studded Bugsy Promotions who also handles Roberto "Pinoy Superman" Gomez, Carlo "Cool" Biado and B-League standouts RJ Bautista, Biondi Te and Hadley Mariano.
Orcollo, also fondly called "The Robocop" in the pool arena, is also busy preparing for the upcoming Philippine Open Pool Championships on April 16 to 20 for men and women; and 2011 World Ten-Ball Championship (WTBC) of the World Pool-Billiard Association (WPA) on May 9 to 15 — both will be held at the World Trade Center in Pasay City.